You are here
Back to top
And I was like November (Paperback)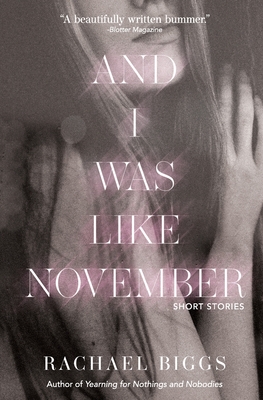 $19.00

Usually Ships in 1-5 Days
Description
---
Badassery reigns, as gritty female characters navigate themes of loneliness and longing in these darkly satirical stories. Topics like hot, transactional sex; obsession-driven hit and runs; and parrots with violent tendencies and questionable intentions are sprinkled with lol to take the edge off.
In a world where everything is glossy and it seems that we're triggered or offended by everything, this is a glimpse of the other side. These are stories of what happens to the women that didn't get their happy ending, the ones who don't believe family is everything and who know that live laugh love isn't the cure all. If you cringe easily, swipe left.
A beautifully written bummer.
-Blotter Magazine
Underneath these dark little gems of reality, spans a subversive biting wit holding it all together like a bittersweet honeycomb.
-Kamal Iskander, Screenwriter, Montreal Girls
Biggs isn't afraid to shine a light on the seamier side of life, but her goal isn't to shock; she reveals a world where the promises of "having it all" girl-power never materialized, and what it left in its wake.
-Jenn Farrell, author of The Devil You Know
Rachael Biggs' sardonic wit and keen eye for the foibles of modern life never loses sight of the heart beating just beneath the surface.
Caroline Klimczuk, screenwriter