You are here
Foraging Medicinal Plants of New England: How to safely identify and prepare over 100 medicinal plants for herbal remedies (Hardcover)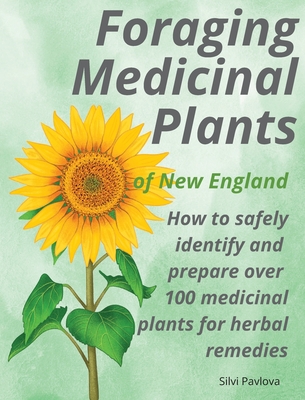 $36.99

Usually Ships in 1-5 Days
Description
---
That is a Color book.
Treat common ailments easily by turning local herbs into powerful homemade remedies.
There seems to be no end to the skyrocketing costs of healthcare.
It's also widely accepted that many conventional medicines have negative side effects.
Consequently, it's becoming a struggle to maintain good health and avoid or treat even the simplest of ailments.
Wouldn't it be great if you could get rid of insomnia without getting hooked on expensive pills?
Wouldn't it feel empowering if you could reduce anxiety without resorting to pharmaceuticals?
Wouldn't it be so convenient if you could simply reach into your cupboard and have something natural to treat everyday complaints?
The good news is that all of these and more are possible through simple plant-based therapies.
The use of herbal remedies dates back thousands of years.
And due to their effectiveness and lower costs, they have re-emerged in recent years as sensible options for maintaining health and combating illness.
And now, here is a guide to the natural way of healing that's comprehensive, clear, and engaging.
If you live in New England, this will be your go-to guide for harnessing the healing power of plants that can be easily found in your area.
And even if you're already an experienced herbalist, this guide will still prove invaluable as it is jam-packed with practical wisdom you won't find anywhere else.
In "Foraging Medicinal Plants of New England" you will discover:
100+ medicinal plants in your local area presented clearly for accurate and easy identification
Why herbal remedies are becoming increasingly valued, and how to become a competent herbalist
How to collect and store herbs to maintain their potency
15 important tips on how to safely forage for medicinal herbs
How to master the many different ways of preparing herbal concoctions
Practical instructions on how to cultivate your own healing herbs at home
How to support your herbalist lifestyle for the long-term
Easy-to-prepare recipes for herbal remedies using readily available ingredients
How to finally break free from the burden and risks associated with conventional healthcare products
And much more.
Not all therapeutic herbs have the same or equal properties, so using them can become a challenge.
For instance, an ingredient for a soothing balm for you might turn out to be an allergen for someone else.
This is a serious consideration, especially if you're sharing herbal preparations with your family and friends.
Therefore, it's important to be responsible and knowledgeable about every single plant you handle, which is why you need a resource that's based only on proven principles of herbal medicine.
Each medicinal plant recommended here has been thoroughly researched and clearly presented to ensure that your journey through natural health is safe and rewarding.
If you're eager to discover and make the most outof powerful healing herbs found in your area, then scroll up and click the
"Add to Cart" button now.