You are here
Back to top
Kalimba Song Book for Beginners: Play by Letter: 40+ easy to play songs for beginners. How to Tune Your Kalimba and Learn Tablature Reading. (Paperback)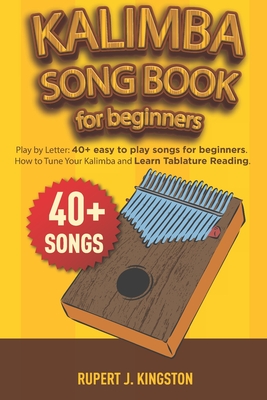 $12.95
Email or call for price.
Description
---
If you want to learn to play kalimba (and in a practical way) then keep reading....
Do you want be playing some of your favorite songs in seven days or less?
Instead of searching online for useless guides, how about learning what you need and get playing as fast as you can? (Potentially even on day one )
I decided to make this book, perfect for an absolute beginner, that offers a fun and practical way to learn kalimba. By following this streamlined strategy of learning kalimba (that won't take over your whole life) with exact practical exercises for you at each step of the way, you'll be playing your favorite songs in no time.
Here is just a sliver of what you'll discover....
- An easy step-by-step guide to playing the over 110 songs contained in this book (I walk you through the whole process );
- Practical exercises to make every step of the process as enjoyable as possible;
- How to potentially play thousands of songs by learning only a few chords;
- How to play your first song on your first day of practice;
- An easy (yet effective) method for mastering chord changes
- To know about 17-Key Kalimba;
- How to tune your Kalimba;
- Tricks to make it sound better for your kalimba;
- Learn tablature reading;
- Intervals;
- And that is barely even scratching the surface
If you know someone who's receiving a Kalimba as a holiday gift (or birthday gift) this is the perfect companion book to help them learn the Kalimba rapidly
If you're ready to have hours of fun while starting your Kalimba journey then scroll up and click "Add to Cart".
Mary Had A Little Lamb - in Three Octaves
Amazing Grace
When the Saints Go Marching In
Notes Alternate Sides As You Play the Scale
Learn the Different Note Types
Ba Ba Black Sheep
Row, Row, Row, Your Boat
Hush Little Baby
Shenandoah
Michael Row Your Boat Ashore
Beautiful Dreamer
Jesu, Joy of Man's Desiring
Kum Ba Ya, Low
Mary, Don't You Weep
Ode to Joy
You Are My Sunshine
She'll Be Comin' Round the Mountain When She Comes
Nobody Knows the Trouble I've Seen (Melody)
This Little Light of Mine
Jamaica Farewell
Daniel in the Lion's Den
Children, Go Where I Send Thee
Do Lord
God Bless America
Go Tell It On The Mountain
New World Symphony
This Land Is Your Land
Red River Valley
She'll Be Comin' Round the Mountain When She Comes
Away in a Manger
Brahms' Lullaby
Old Joe Clark
One Love
'Tis Me O Lord
Blowin' in the Wind
Last Night I Had the Strangest Dream
Bring a Torch, Jeannette, Isabella
Nobody Knows the Trouble I've Seen (Advanced)
My Country 'Tis of Thee
She'll Be Comin' Round the Mountain When She Comes