You are here
Notre-Dame: A Short History of the Meaning of Cathedrals (Hardcover)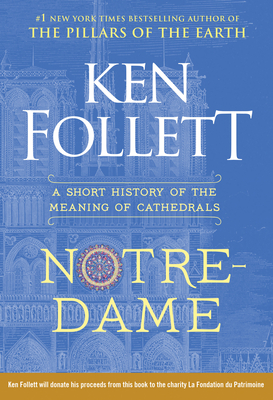 $17.00

Usually Ships in 1-5 Days
Description
---
"The wonderful cathedral of Notre-Dame de Paris, one of the greatest achievements of European civilization, was on fire. The sight dazed and disturbed us profoundly. I was on the edge of tears. Something priceless was dying in front of our eyes. The feeling was bewildering, as if the earth was shaking." —Ken Follett

"[A] treasure of a book." —The New Yorker

In this short, spellbinding book, international bestselling author Ken Follett describes the emotions that gripped him when he learned about the fire that threatened to destroy one of the greatest cathedrals in the world—the Notre-Dame de Paris. Follett then tells the story of the cathedral, from its construction to the role it has played across time and history, and he reveals the influence that the Notre-Dame had upon cathedrals around the world and on the writing of one of Follett's most famous and beloved novels, The Pillars of the Earth.

Ken Follett will donate his proceeds from this book to the charity La Fondation du Patrimoine.
About the Author
---
Ken Follett is one of the world's most successful authors. More than 160 million copies of the 30 books he has written have been sold in over 80 countries and in 33 languages. Born on June 5, 1949, in Cardiff, Wales, the son of a tax inspector, Ken was educated at state schools and went on to graduate from University College, London, with an honors degree in philosophy. He was made a fellow of the college in 1995. Ken's project, the Century Trilogy, has sold 19.5 million copies worldwide. The three books tell the story of the twentieth century through five generations on three continents. Ken's first major success came with the publication of Eye of the Needle in 1978. A World War II thriller set in England, this book earned him the 1979 Edgar Award for Best Novel from the Mystery Writers of America. It remains one of his most popular books.   Ken has been active in numerous literacy charities and was the president of Dyslexia Action for ten years. He was the chair of the National Year of Reading, a joint initiative between government and businesses. He is also active in many Stevenage charities and is the president of the Stevenage Community Trust. Ken also set up The Follett Trust, which awards single donations to the arts and in cases of social deprivation and education.
Praise For…
---
Praise for Notre-Dame

"Follett knows a thing or two about medieval cathedrals, having structured his Kingsbridge series around the building of one such architectural wonder . . . Fans of Follett and cathedrals alike will enjoy his exploration of the great Parisian edifice—and will want more."
—Kirkus (starred review)