You are here
Rent Boy (Paperback)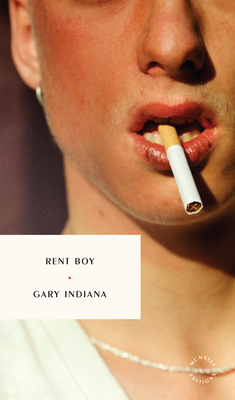 $18.00

Usually Ships in 1-5 Days
Description
---
A noir tour-de-force set in the world of hustlers from "one of America's darkest and funniest chroniclers." (The Guardian)

It's New York City, 1981, and everyone wants to be at the Emerson Club, from Cindy Crawford to Cindy Adams; from Famous Roger, one-time lion of the talk shows, to Sandy Miller, the "downtown" writer with the tattoos and the leather; from Lauren Hutton to the art star who does the thing with the broken plates. Everyone, that is, except Danny. Danny just works there, waiting tables to put himself through architecture school, turning tricks on the side. And when he's not on the clock, he's recording the sexual, aesthetic, and financial transactions that make up his life, in gruesome detail. But even a clever boy like Danny can wind up on the menu. Blinded by love for his fellow rent boy, Chip—as gorgeous as he is reckless—Danny is about to learn that there's more than one way to turn your body into cash, and that cynicism is no defense when the real scalpels come out. A gimlet-eyed crime novel with an inventively filthy mind, Rent Boy is Gary Indiana at his most outrageous—and his best.
About the Author
---
Gary Indiana is the author of the novels Horse Crazy, Gone Tomorrow, Do Everything in the Dark, and the acclaimed "true crime" trilogy made up of Resentment, Three-Month Fever, and Depraved Indifference. He has also published a memoir, I Can Give You Anything but Love; a collection of art criticism, Vile Days; and Fire Season: Selected Essays.
Praise For…
---
"Gary Indiana's novel Rent Boy, first published in 1994, is the latest reissue by the reliable McNally Editions. It is literature with the filter off: on the one hand, an account of life as lived outside mainstream acceptance; on the other, a telling entirely unrestrained by political correctness . . . In a short space, Rent Boy is a multi-faceted little gem, a world of 'Versailles at78rpm,' and the sort of funny, sick, weird little book you never forget."

— John Self

"A funny book with a high degree of linguistic sophistication. It also contains all the four-letter words, plus graphic descriptions of sex, kinky perversions, drug abuse and mayhem."
— Michael Harris

"For a time, he was comfortably categorizable: an inheritor, perhaps, of early Burroughs or John Rechy or Alexander Trocchi, or a 'fixture,' as journalists like to say, among the writers and artists who congregated around Manhattan's East Village in the 1980s . . . Now, most of the downtown luminaries are dead; a few got rich—which in artistic terms is often the same thing—but, like his own apartment building, 'an architectural pentimento' of grimmer days holding out against the metastatic luxury of condos, boutique hotels, fancy eateries, and NYU dorms, Gary Indiana is still there, developing the vivid ire and grit of his early works into a sulfurous dissection of the American character that has few if any rivals."
— Adrian Nathan West

"Indiana, a playwright, art critic, artist, and novelist with the sensibility of a rogue private investigator, is edgy in two or three ways. He's hip and unchill, he's lived on the edges of a lot of things, like fame and Los Angeles."
— Sarah Nicole Prickett

"Nostalgia isn't part of his equation. [Indiana is] the author of seven novels, and a prolific essayist and critic; he's been a playwright, stage director, and film actor, and has been exhibiting his visual art for a decade or so. You don't need a complete knowledge of his works to see that his novels mark him as the nearest thing we have to an inheritor to the Burroughs strain in American fiction. That's the strain that breaks or simply ignores middle-class taboos; embraces narcotics and all kinds of sex; takes an interest in the uglier emotions, like disgust, shame, and hatred; applies actual pressure to American myths (the Western, the P.I., the gangster); has recourse to science fiction and narrative fracture; keeps its eye on the varieties of societal control (family, state, corporation, media); and doesn't shy away from anything that might be mistaken for sin."
— Christian Lorentzen