You are here
The Very Embarrassing Book of Dad Jokes 2: Because Your Dad Still Thinks He's Hilarious (Hardcover)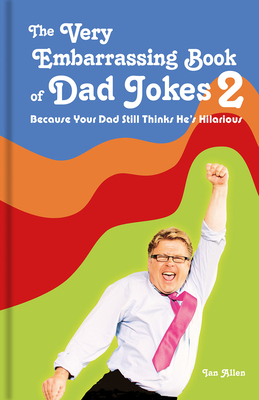 $14.95
Email or call for price.
Description
---
What happened to the man with five legs? His trousers fit him like a glove.You can't keep a good Dad joke down. At the Sunday lunch table, down the pub, at the workplace, dads all over the nation are still churning out the lamest, most pathetic jokes you've ever heard. And we've gathered them all in this book. Back by popular demand, The Very Embarrassing Book of Dad Jokes 2 is an all-new collection of Dad joke favourites. With 1000 rib-tickling jokes for every occasion, this book makes it easier than ever to have a laugh – or, more likely, a groan – with Dad.Who drives round the West Country in a camper van? Tess of the Dormobiles.What do angry mice send one another in winter? Cross-mouse cards.
About the Author
---
Ian Allen is a father of three teenagers and a funny man indeed. He has been a freelance editor from Staffordshire – recently voted England's least amusing county – for the past 15 years and during that time Ian has worked on dozens of joke books, a handful of which were even intended to be comical. Ian is qualified to degree-level in Data Processing, which is also hilarious.