You are here
The Best of World SF: Volume 2 (Hardcover)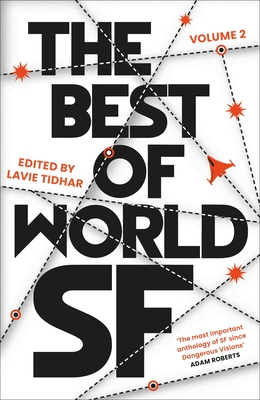 $39.95

Usually Ships in 1-5 Days
Description
---
"A bold and powerful argument for non-Anglophone SF's potential to push the genre's boundaries." —Publishers Weekly starred review

Twenty-nine new short stories representing the state of the art in international science fiction. The second annual instalment to the 'rare and wonderful' (The Times) The Best of World SF Volume 1, this collection of twenty-nine stories, including eight original and exclusive additions, represents the state of the art in international science fiction.

Navigating around the globe, The Best of World SF Volume 2 features writers from Bahrain, Bangladesh, Barbados, Bolivia, Brazil, China, Czech Republic, Greece, Grenada, India, Iraq, Italy, Jamaica, Japan, Korea, Malaysia, Mexico, Nigeria, Pakistan, The Philippines, Poland, Russia, Singapore, Uganda and Zimbabwe.

Each story has been selected by World SF expert and award-winning author Lavie Tidhar. Taking us into space – Mars at first, then the stars – and then back to a strange, transformed Earth via AI, gods, aliens and the undead, the collection traces the ever-changing meaning of the genre from some of the most exciting voices writing today.

This is not a retrospective of what science fiction around the world used to look like. This is a snapshot of what some of it looks like now. And it's never been more exciting.

Reviews for The Best of World SF, volume 1:
'Just the start of a whole new game for speculative fiction authors around the world' LA Review of Books
'An excellent, lovingly curated collection' Financial Times
'This wonderful anthology should be a hit with any sci-fi fan' Publishers Weekly
'Tidhar gives a cheerful, fannish introduction to the stories, drawn from 26 countries on five continents, and encompassing a dizzying range of tones and approaches' The Times
About the Author
---
Lavie Tidhar is the World Fantasy Award-winning author of Osama (2011), The Violent Century (2013), the Jerwood Fiction Uncovered Prize-winning A Man Lies Dreaming (2014), and the Campbell Award-winning Central Station (2016), in addition to many other works and several other awards. He works across genres, combining detective and thriller modes with poetry, science fiction and historical and autobiographical material. His work has been compared to that of Philip K. Dick by the Guardian and the Financial Times, and to Kurt Vonnegut's by Locus.
Praise For…
---
"The best new science fiction for November 2022. 'Fresh' is an overused word in book reviews, but Lavie Tidhar's second trawl of recent science fiction from around the world earns the compliment.... this volume is stronger than the last. It is certainly creepier... We need this anthology, and we need editors like Tidhar." —Simon Ings, The Times

"Tidhar brings together another outstanding assortment of international sci-fi shorts, showcasing 29 thought-provoking stories written during the past 10 years. His claim that these tales represent the "cutting edge of science fiction" rings true throughout. . . . This sweeping survey rewards the time it demands of its readers with a bold and powerful argument for non-Anglophone SF's potential to push the genre's boundaries." —Publishers Weekly starred review
 
"A rich blend of stories that mix traditional SF concerns within different cultural matrixes... in ranging further abroad SF has come closer to home in stories dealing with domestic and personally intimate concerns." —Toronto Star


PRAISE FOR THE BEST OF WORLD SF: VOL 1:

'This handsome volume from Head of Zeus is a major step on a 45-year journey to bring global speculative fiction to Anglophone attention ... The print edition of The Best of World SF: Volume 1 is truly a thing of beauty, providing gravitas and a wider audience for the authors it collects ... There are many striking stories in the collection ... This anthology is just the start of a whole new game for speculative fiction authors around the world'LA Review of Books

"This excellent anthology proves editor Tidhar's assertion that science fiction should no longer be thought of as 'white, male, and American'. . . . Worthwhile both as a survey of international sci-fi and on a story-by-story level, this wonderful anthology should be a hit with any sci-fi fan." —Publishers Weekly

★ "All of these stories come together to create a rich and well-curated collection full of surprising narratives and vast worlds that will delight any science fiction fan." —Booklist, starred review

"Although science fiction imagines diverse, imaginative, and frightening futures, genre anthologies rarely achieve the brilliant range and diversity of voices of The Best of World SF: Volume 1 ... The anthology brings a fresh, revolutionary perspective in that its selections are intentionally curated to suggest that the horizon is both closer and brighter than Western readers might think. Vital and exciting, The Best of World SF blows the blast panels off the dusty, well-worn tropes of popular science fiction and lets in a dazzling burst of lunar light." —Foreword Reviews

"Stories like these are the ones you sometimes want to foist upon readers who claim not to like SF. . . . I look forward to future volumes." —Gary K. Wolfe, Locus

"This sort of international compendium — which includes the works of mostly non-white, non-famous authors from such far-flung homeworlds as Singapore, Brazil, Croatia, and the Philippines — is still something of a novelty in our timeline. Embrace the unknown." —Philadelphia Inquirer, "These Are the Hot Books of 2021"