You are here
Hugh Johnson Pocket Wine 2022: The new edition of the no 1 best-selling wine guide (Hardcover)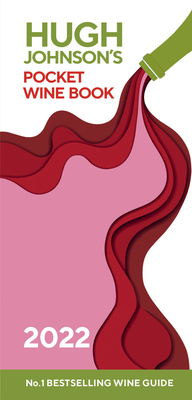 Description
---
The brand new edition of the unrivalled and bestselling annual, Hugh Johnson's Pocket Wine Book

The world's best-selling annual wine guide.

Hugh Johnson's Pocket Wine Book is the essential reference book for everyone who buys wine - in shops, restaurants, or on the internet. Now in its 45th  year of publication, it has no rival as the comprehensive, up-to-the-minute annual guide. 

Hugh Johnson provides clear succinct facts and commentary on the wines, growers and wine regions of the whole world. He reveals which vintages to buy, which to drink and which to cellar, which growers to look for and why. Hugh Johnson's Pocket Wine Book gives clear information on grape varieties, local specialities and how to match food with wines that will bring out the best in both.

This latest edition of Hugh Johnson's Pocket Wine Book includes a color supplement: The Ten Best Things About Wine Right Now, which covers wine blending and orange wine. 
About the Author
---
Hugh Johnson is the world's pre-eminent writer on wine. First published in 1977, his Pocket Wine Book sells hundreds of thousands of copies a year. His winning formula of insight, critical appraisal of the world of wine, plus valuable vintage news and wine recommendations has been often-imitated but never bettered. 

With the publication of his first book, Wine, Johnson established himself at the age of twenty-seven as the most refreshing and authoritative voice on the subject. During the past five decades he has written a series of landmark books on wine, including his classic The World Atlas of Wine, now in its eighth edition, co-authored by Jancis Robinson. His Wine Companion is in its sixth edition. His memoir, A Life Uncorked, and his acclaimed history, The Story of Wine, were both bestsellers. He was given the French National Order of Merit in 2005 and he was appointed an OBE in 2007 "for services to wine-making and horticulture," his two great passions.

Margaret Rand has been general editor of Hugh Johnson's Pocket Wine Book for some 15 years and now, with Hugh's retirement, has taken over the hot seat. The book's mix of personal insight and informed recommendations have made it the world's best-selling annual wine book.

Margaret Rand's curiosity about wine started several decades ago and led her to a career of writing about wine and editing wine magazines, with the occasional foray into whisky. Her books include Grapes & Wines and 101 Wines to Try Before You Die; she also writes regularly for The World of Fine Wine, timatkin.com and winesearcher.com. When she's not writing about wine she's probably walking, reading, or in the kitchen, cooking.