You are here
Back to top
Unfettered and Alive (Hardcover)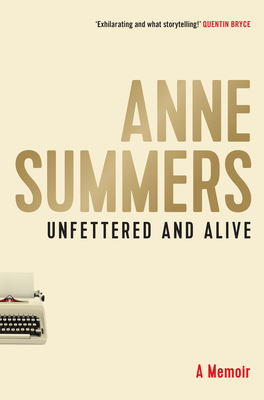 $29.95
Email or call for price.
Description
---
"I was born into a world that expected very little of women like me. We were meant to tread lightly on the earth, influencing events through our husbands and children, if at all. We were meant to fade into invisibility as we aged. I defied all of these expectations and so have millions of women like me."

This is the compelling story of Anne Summers' extraordinary life. Her story has her traveling around the world as she moves from job to job, in newspapers and magazines, advising prime ministers, leading feminist debates, writing memorable and influential books. Anne has not been afraid to walk away from success and to satisfy her constant restlessness by charging down new and risky paths. Whatever position she has held, she has expanded what's possible and helped us see things differently—often at high personal cost. Anne shares revealing stories about the famous and powerful people she has worked with or reported on and is refreshingly frank about her own anxieties and mistakes. She shares a heart-breaking story of family violence and tells of her ultimate reconciliation with the father who had rejected her. Unfettered and Alive is a provocative and inspiring memoir from someone who broke through so many boundaries to show what women can do.
About the Author
---
Anne Summers was the editor of Ms. Magazine from 1986 to 1992 and the chair of Greenpeace International from 2000-2006. She is the author of eight books, including Damned Whores and God's Police, Ducks on the Pond, The Lost Mother, and The Misogyny Factor. In the early 1970s she helped start Australia's first women's refuge. In the mid-1980s, she ran Australia's federal Office of the Status of Women. In 1989 she was made an Officer in the Order of Australia for her services to journalism and to women. She lives in New York City. 
Praise For…
---
"It's the story of a lot of things—Australian politics, feminism, journalism, international intrigue←but most of all it's the story of an utterly singular woman, who always says "Yes" to life even when it scares her. Her memory for the events, and her frankness about the fear, make this an extraordinary memoir." —Annabel Crabb

"Exhilarating and what storytelling!" —Quentin Bryce