You are here
American Murderer: The Parasite that Haunted the South (Medical Fiascoes) (Hardcover)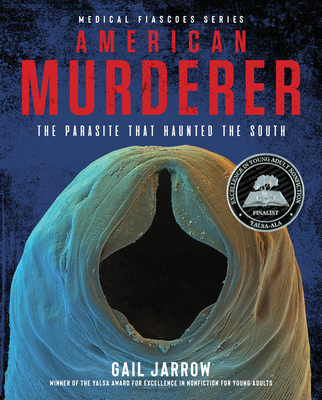 $24.99

Usually Ships in 1-5 Days
Description
---
Included on NPR's 2022 "Books We Love" List
Finalist, 2023 YALSA Award for Excellence in Nonfiction 
ALSC Notable Children's Book

What made workers in the American South so tired and feeble during the 19th and early 20th centuries? This exciting medical mystery uncovers the secrets of the parasite hookworm, commonly known as the "American Murderer," and is the latest title in Gail Jarrow's (YALSA Excellence in Nonfiction for Young Adults award-winning author) Medical Fiascoes series.

Imagine microscopic worms living in the soil. They enter your body through your bare feet, travel to your intestines, and stay there for years sucking your blood like vampires. You feel exhausted. You get sick easily. It sounds like a nightmare, but that's what happened in the American South during the 1800s and early 1900s.
 
Doctors never guessed that hookworms were making patients ill, but zoologist Charles Stiles knew better. Working with one of the first public health organizations, he and his colleagues treated the sick and showed Southerners how to protect themselves by wearing shoes and using outhouses so that the worms didn't spread. Although hookworm was eventually controlled in the US, the parasite remains a serious health problem throughout the world. The topic of this STEM book remains relevant and will fascinate readers interested in medicine, science, history—and gross stories about bloodsucking creatures.
About the Author
---
Gail Jarrow's books have earned a YALSA Award for Excellece in Nonfiction for Young Adults award, Sibert Honor, Orbis Pictus Honor, YALSA Award for Excellence in Nonfiction for Young Adults finalist, a Notable Social Studies Trade Book, NSTA Outstanding Science Trade Book and Best STEM book, The Jefferson Cup Award, a Eureka! Gold Award, as well as Kirkus Reviews and School Library Journal Best Books and VOYA Honor Book distinctions. She lives in Ithaca, New York. Visit gailjarrow.com.
Praise For…
---
School Library Journal Best Book
NSTA/CBC Best STEM Book
NSTA/CBC Outstanding Science Trade Book
CCBC Choices 2023
Eureka! Nonfiction Silver Honor Award (California Reading Association)
Chicago Public Library Best of the Best Book
Evanston (IL) Public Library's 101 Great Books for Kids 2022

★ "Jarrow's impeccable research and fascinating details will keep [readers] hooked, especially when they discover that this creature, known as Necator americanus—the American murderer—is a hookworm that once plagued the South...Numerous archival photos place readers in the time period, while a concluding chapter looks at ongoing parasitic-worm dangers across the globe...An engrossing blend of history and STEM." —Booklist, starred review

"Jarrow continues her 'Medical Fiascoes' series with this concise yet fascinating history of hookworm disease in the American South… with her usual flair, Jarrow highlights the science of hookworms, which has plenty of gross appeal to keep ­readers engaged.  An excellent addition for middle and high school students." —School Library Journal

"Jarrow's coverage of the biological mystery is well-organized and deftly explained, and she also skillfully handles the social context of a condition that largely affected marginalized populations. Readers who wish to delve deeper into the topic are assisted by a glossary, bibliography and website list, source notes, timeline, index, and author's note on research." —The Bulletin of the Center for Children's Books

"The title is a literal translation of the hookworm's scientific name Necator americanus, but the lurid details don't stop there as Jarrow goes on to expand...accounts of the creepy creature's life cycle and the discovery of just how disturbingly prevalent 'America's bloodsucking murderer' was in the South in the 19th and early 20th centuries... [A] searching look at the borders between science and society." —Kirkus Reviews

"Scientific and societal intersections are...explored in this introspective work, which features straightforward prose and informative sidebars detailing other historical Southern maladies and the scientists who studied them. Photographs, diagrams, and microscopic slides are included throughout; a timeline, glossary, and additional information conclude." —Publishers Weekly

"Jarrow...who has carved out a niche for herself in the history of science and medicine, here adeptly weaves solid research, primary-source quotes, and historical artifacts with elements of mystery for a compelling read." —The Horn Book