You are here
Shifting: Book Two of the Fold (Paperback)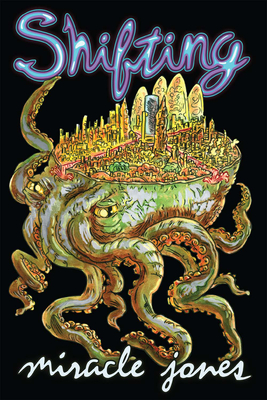 $20.00

Usually Ships in 1-5 Days
Description
---
PART TWO OF THE FOLD, a psychic saga in seven volumes.
Ljubo Snap--a "thoughtsnatch," someone who traffics in secrets plucked from unsuspecting minds--must save his miscreant family by uncovering a conspiracy that threatens not merely the survival of the Traveling city of Pip's Cross, but freedom itself.
A saga, in seven projected volumes, of a band of psychic malcontents struggling to hold onto what order they can in an evolving, hostile multiverse. THE FOLD is a story about willpower, about a city carved into the brain of a giant octopus, about the seeds of politics, about succulent diner meals, about the offscourings of society, and about what it feels like to use your mind to fly.
"Combines the prose of David Mitchell or Tom Robbins with the ideas and raw insights into humanity of Kurt Vonnegut . . . If I were to recommend one lesser known indie author, it's Miracle Jones."--Jeremy Blaustein, translator of Metal Gear Solid
"Chronicles of Narnia meets William Burroughs by way of Texas Chainsaw Massacre ... highly recommended to the strong of heart and stomach."--Tom Moody
Fiction.