You are here
Grandpa Jokes: Like a Dad Joke but Worse. Large Print Joke Book for Adults Clean, Senior Citizen Funny Jokes (Hardcover)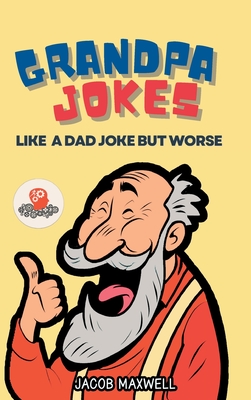 $14.99

Usually Ships in 1-5 Days
Description
---
If you thought dad jokes were bad, get a load of this...
Are you ready for half-laughs and half-groans around the dinner table?
Or what about having grandpa in a good mood for a change?
Like the dad joke, grandpa jokes are really bad. They're so bad, they're funny. Read aloud what's inside and you'll have the entire family in laughing fits this holiday season.
Packed with more than three hundred jokes, puns, one-liners, and stories, this book guarantees you endless hours of fun.
In Grandpa Jokes, you will:
Experience having grandpa in a good mood for a change.
Rediscover classic jokes that will have the entire family cracking up.
Get a daily dose of medicine for both the mind and soul.
Find a fun activity that improves long-term and working memory
Find uplifting illustrations alongside hundreds of grandpa jokes
Find the perfect gift for family and loved ones.
Are you ready for a jaw-dropping moment with the whole family?
Click 'add to cart' button and get a copy of this joke book today