You are here
The Toddler's Science Activity Book: 100+ Fun Early Learning Activities for Curious Kids (Toddler Activity Books) (Paperback)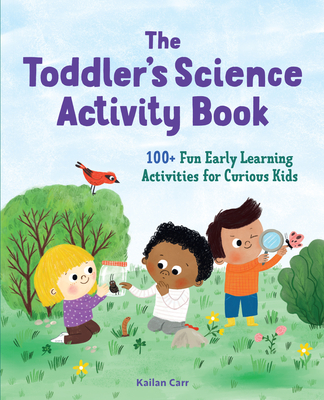 $13.99
Email or call for price.
Description
---
A play-and-learn science adventure for curious toddlers ages 1 to 3
Dive into the amazing world of science for toddlers. This giant collection of simple activities will help kids practice core science skills the way they learn best: through play! You can choose activities based on the skills developed, how long they take, or even how messy things might get. Best of all, every activity is designed for fun, which is the best way to help your little scientist learn and grow.
This introduction to science for toddlers features:
100+ Educational activities—Explore activities that integrate science for toddlers, like building a rock tower, creating DIY playdough, or making things stick with static electricity.
Labels for learning—Each experiment is labeled with the skills being taught, including observation, problem-solving, physics, biology, and more.
Toddler teaching tips—Discover a brief overview of toddler development and milestones, as well as handy teaching advice that makes it easy to pick the right activities.
Set kids up for a lifetime of learning with these super fun science-for-toddlers activities.
About the Author
---
KAILAN CARR is a mom of two who did these very activities with her children to keep them learning through play! She is a former teacher who earned her master's degree in education in literacy. She started Quiet Book Queen & Crafts in Between (QuietBookQueen.com) to help caregivers provide screen-free activities for their little ones.
Praise For…
---
"Keeping a toddler occupied every day can be challenging, but getting new ideas for every day is even more challenging. Kailan's book is the perfect tool for parents and teachers! Her insight is inspiring. I will be using this for my class." —Amber Sneath, preschool teacher

"As a preschool teacher for more than 20 years, I've done my share of science activities with children. Kailan includes new ideas in this book that I know my students would love. Whether you're an educator or caregiver looking for boredom-buster ideas to do with kids, this book is a must-have!" —April Steward, preschool teacher and lover of science

"As a pediatrician and a mom, I couldn't love this book more! Watching science come to life through the eyes of your toddler is priceless, but it can be hard as a parent to figure out where to start. Kailan has taken the legwork out for you as she provides 100 creative ways to help your toddler learn, grow, and love science!" —Nimisha Amin, pediatrician

"The Toddler's Science Activity Book is wonderfully written to captivate the parent or preschool teacher who is short on time yet needs some quick science activities for their youngster. I love the design and layout of this book because it shows the parent/teacher what is needed in advance, along with what you and your child will be doing during the activity. As an educator for Pre-K to college students for nearly 25 years, I appreciate time-saving curriculum such as this one because it allows us to get straight to what we need with less information and more attention to the foundation of what we will do to ensure a well-thought-out science activity for our children." —Professor Tabelech Shipp, STEM outreach consultant for The MYGEMS Science Center and College Chemistry Professor

"STEM + nature = the perfect combo for getting kids to play and learn. This book is the guide every parent needs to spark their child's curiosity and get them playing." —Emily Lawson, former teacher and owner and founder of Sandbox Academy, LLC