You are here
3D Printer: A Complete 3D Printing Guide (Paperback)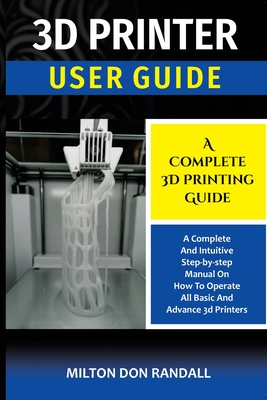 $14.00

Usually Ships in 1-5 Days
Description
---
Learn to 3D Print Anything & Everything; The Ultimate 3D Printing Guide for Beginners & Professionals
Find out how to get the right equipment, get it set up properly, and learn how to print the perfect object on your choice with a 3D printer
This is a complete guide for beginners to 3D printing and how to get started with the best, most affordable, and reliable 3D printers available today. This book will open your eyes to how converging technologies are transforming businesses, industries, and human lives with 3D printing technology. Learn everything from the first step to buying a printer to understanding and setting up your computer. I explain all the technical jargon that can confuse newbies.
The 3D printer is a great invention that lets anyone create objects of any size and shape. With the introduction of new, affordable models, 3D printing has become a very accessible technology for both hobbyists and professionals.
3D printing is a relatively new technology. Although it is still at an early stage, 3D printing has already revolutionized the manufacturing industry. As technology develops, new applications are being discovered every day. Many people are using 3D printers to create objects from designs they have created in a digital format.
In this guide, we will go through the basics of the technology and what you need to know to get started.
The truth is you can't just buy a 3D printer and start printing whatever you want. You have to learn how it works, and then how to design it, and then make sure it's going to work. And it takes a lot of time to get to the point where you're comfortable with it. This is why I have written this book to help you.
I've written down my experience in a new book titled "3D Printer: A Complete 3D printing Guide". It's a step-by-step guide on how to learn how to use a 3D printer and get your own. It's designed to take the intimidation out of learning 3D printing and to give you a blueprint for how to get your own printer. Once you understand how to use a 3D printer, it becomes much easier to design your own creations and print them.
The best part is that you don't have to be a "techie" to get started. It's simple to start with the basic designs, and even if you don't know how to make them, you can still create incredible items. It's the ultimate guide for beginners, intermediate and advanced users to get the most out of their 3D printer.
The benefit of reading this book will leave you with knowledge on;
How to get the most out of your 3D printer.
A full explanation of how 3D printing works and why it's the future of manufacturing.
Why you don't need to be a "techie" to get started and get the most out of your 3D printer.
Everything you need to know to learn how to use your own 3D printer, from the basics to the more advanced techniques and tricks.
A step-by-step guide on how to use your 3D printer, from the first day all the way through to printing your own creations.
Different 3D printing processes.
Maintenance of a 3D Printer and its Filament.
3D printer structural elements removal.
Importance of 3D softwares like Makerbot thingiverse.
Hardware critical to 3D printing.
How to make money with your 3D printer
and much more...
If you've ever wanted to design something of your own and print it out in 3D but didn't know where to begin, then this is the perfect guide for you. It doesn't matter whether you've never used a 3D printer before or have been designing things for years - you're going to find this guide to be extremely useful. It's a step-by-step guide designed to teach you how to use a 3D printer, and at the same time, it provides the blueprint for getting your own.
Grab your copy of this book and start printing