You are here
Herbal Medicine Natural Remedies: 150 Herbal Remedies to Heal Common Ailments (Paperback)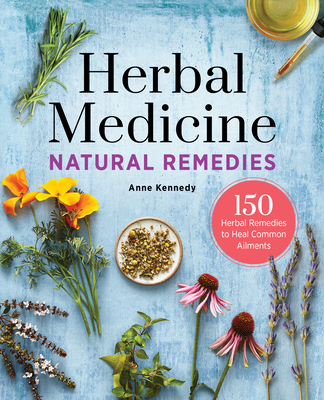 $14.99
Email or call for price.
Description
---
You don't have to be a doctor to make effective herbal medicine.
With hundreds of different herbs and remedies out there, making herbal medicine can be overwhelming. Thankfully,
Herbal Medicine Natural Remedies
acts as the perfect salve, making things simple with 150 easy-to-follow recipes for highly effective herbal medicines.
Discover natural ways to treat headaches, coughs, colds, hangovers, and more that don't carry the same risk of side effects that many pharmaceuticals do. Never made your own herbal medicine? Start things off right with helpful lists of must-have tools, plus important safety tips.
Herbal Medicine Natural Remedies
includes:
Herbal medicine for common ailments—Learn to make 150 different herbal remedies designed to help treat 75 different health issues.
Herb profiles—From agrimony and chamomile to licorice and skullcap, 50 of the most common, useful, and healing herbs are detailed.
Herbalism 101—Complete guides to collecting the right cookware, herb safety, and more help you jump straight in regardless of your experience level.
Herbal medicines made easy—what a relief!
About the Author
---
Anne Kennedy began her lifelong study of herbs and plants as a child in Montana's Bitterroot Valley, starting with an interest in Native American herbal remedies. Today she is a writer who specializes in a wide variety of natural health, gardening, and sustainability topics. She has written several books on essential oils and herbal medicine, including The Portable Essential Oils (2016), Essential Oils Natural Remedies (2015) and Essential Oils for Beginners (2013). Self-sufficiency, an active outdoor lifestyle, and a strong focus on the interconnectedness of body, mind, and spirit serve as her inspiration and cornerstone for healthy living. Anne lives and works from her home on a small organic farm in the mountains of West Virginia. Her favorite essential oil is frankincense.
Praise For…
---
"Includes 40 pictures of herbs, environments they thrive in, how to preserve them, and their uses. It also gives contraindication of medications they shouldn't be taken with, what not to take during pregnancy, lactation, or various medical conditions."—Charles R.

"I love this book's content. The author has gone to great lengths to provide quality content in terms of recipes for herbal remedies. It is written in an easy to understand and follow manner, therefore very helpful to a beginner like me. It is put in practical terms how we can utilize what we already have: the plants, leaves, and herbs that already surround us."—Erika W.

"The author, Anne Kennedy, has written several popular and successful books that have proven her depth of knowledge of natural living, herbal medicine, tinctures, teas, aromatherapy, essential oil remedies & uses…she knows her stuff and it's more than clear."—Pain Warrior