You are here
Love First: A Family's Guide to Intervention (Love First Family Recovery) (Paperback)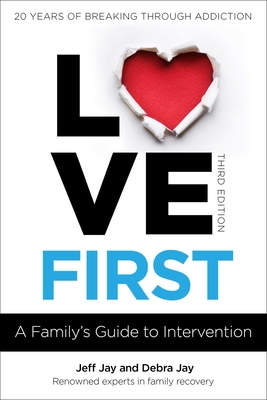 $18.95

Usually Ships in 1-5 Days
Description
---
This revised and expanded third edition of the gold-standard for intervention provides clear steps for harnessing the power of family, friends, and professionals to create a better future with loved ones suffering from addiction.

Over the course of the last twenty years, Love First has become the go-to intervention guide for tens of thousands of families. This trailblazing book empowers and equips families and friends to use the power of love and honesty to give their addicted loved ones a chance to reach for help. Updated with the latest addiction science as well as insights gained from decades of front-line experience in family interventions, this revised and expanded edition contains practical tools for taking the next step together: transforming the intervention team into an ongoing community of loving support, lasting accountability, and lifelong recovery.
About the Author
---
Jeff Jay, CIP, is a professional interventionist, educator, and author. He has been working full time in the substance abuse treatment field since 1986, including work for the Hazelden Foundation. He is a graduate of the University of Minnesota and is a Certified Intervention Professional. He has appeared as an expert on CNN, PBS, and The Jane Pauley Show. Jeff has served as president of the Terry McGovern Foundation in Washington, DC, and on the boards of directors for several professional organizations. He and Debra Jay head a national private practice that provides intervention and crisis management services. He is a former clinician with Sacred Heart Rehabilitation Center.

Jeff specializes in complex interventions for impaired professionals. He is also skilled in working with baby boomers, older adults, and younger adults. His expertise is sought after for cases which are complicated by psychological issues, such as anxiety disorders, bipolar disease and trauma. He also conducts interventions for eating disorders, gambling addiction, sex addiction, and other issues. His personal recovery from addiction dates from October 4, 1981. "I believe in intervention for a very simple reason," says Jeff. "Intervention saved my life."

Debra Jay is a noted author, speaker, and trainer for addiction professionals. She was a guest lecturer for Wayne State University graduate studies on addiction for fourteen years. She has been writing a newspaper advice column on families and addiction since 1996. She has served as board member for Brighton Hospital, St. John Providence Health System, and Dawn Farm. She is a recipient of the 2012 Letitia M. Close B.V.M Award in recognition of a significant ministry in helping women with the disease of addiction.

Debra was the addiction expert on The Oprah Winfrey Show for 3 seasons and has appeared on The Dr. Oz Show. She is a graduate of The Ohio State University and the Hazelden Addiction Professionals Training Program.
Praise For…
---
Jeff and Debra Jay are leaders in the behavioral health field. As a clinician, educator, author and fellow interventionist I am a huge fan of their work. Many of my clients have found Love First to be indispensable to their growth. A must read for Cliniciand and Families.
— Dr. Louise Stanger, Clinician, author of Addiction in The Family: Helping Families Navigate Challenges, emotions and Recovery

Love First is such a fundamental tool for any family that is affected by the disease of addiction. It is unique in its ability to bring about an intervention approach through love, acceptance, and positivity.
— Rabbi Yarden Blumstein, founder and director of UMatter

A compelling and systematic way of reaching your loved one who may have fallen down and lifting them up to lofty heights. Jeff and Debra Jay are consummate professionals who speak from the heart and connect individuals and families making them whole again.
— Colin King Ph. D Clinical Psychologist Co-host of the show "For Guys Only."

A beautifully enhanced " Bible", that I have used with clients for 20 years. It goes beyond getting a loved one into treatment. The inclusiveness of a structured family recovery restores the family integrity WITH LOVE
— Michael S Parr MD,FASAM

With the 3rd Edition of Love First, the Jays continue to demonstrate that they are the preeminent experts in the field of addiction intervention. In this unprecedented time of ever-increasing deaths from addiction, it is not an exaggeration that literally everyone in the world should read and appreciate this book.
— Buddy Stockwell JD, CCI, Executive Director, Tennessee Lawyers Assistance Program (TLAP)

A sane model of intervention which increases your chance of reaching an addict with psychological injury or complications.
— Jerry A. Boriskin, Ph.D., V.A. Northern California, Senior Psychologist, Specializing in Post-traumatic Stress Disorder

Love First offers forward looking guideposts and meaningful and effective steps for long-term success in intervention and recovery--including strategies for unique and difficult situations.
— Dr. Miriam Engstrom, PsyD, Co-founder and coordinator of The Michigan TriCounty Trauma Recovery Network

The best primer for those who love an addict or alcoholic.
— James Balmer, President of Dawn Farm Community of Programs

In "Love First", Jeff and Debra Jay present a clear path to helping a person we care about recover and grow, without losing ourselves in the process. Family members, friends and professionals will all gain from this gentle, yet assertive approach.
— Rabbi Benny Greenwald, director of The Daniel B. Sobel Friendship House

When families are considering intervention for their loved ones and reach out to me for recommendations, I have only one: "Love First" by Jeff and Debra Jay. There is no better resource. The Jays gently lead families through the intervention process, all the while honoring the core family value: love.
— Sherry Gaugler-Stewart, Director of Family and Spiritual Recovery at The Retreat, Wayzata, MN

Wisdom and compassion shine on every page of this invaluable resource. A comforting, enlightening, and inspiring guide to intervention, treatment, and long-term recovery support for families and friends seeking help for their addicted loved ones.
— Katherine Ketcham, author of The Only Life I Could Save, coauthor of Under the Influence, The Spirituality of Imperfection, and Broken

"Love First" surrounded me with my families love until I could find the ability to love myself. When I am unsettled I still seek comfort in the beauty of the "Love First" intervention letters my family wrote. It provided the opportunity to break down the barriers to what can be an overwhelming time for a family looking to provide guidance in a loved ones journey in addressing their addiction. I am grateful for the empowering insight and comfort provided me to seek the help that now has allowed me 15 years of Sobriety and participate in the lives of hundreds of others finding Love First as their foundation.
— Scott Masi, Recovery Advocate and Director- Unite to Face Addiction

Superbly well written, this is a must read for anyone working with families with addiction. Debra and Jeff Jay generously share their expertise by providing a step by step guide to their method of supporting families in addressing addiction, a method which, as the title suggests, is founded in the transformative power of love.
— Sue Donaldson RSW, ICADC, CIP, Interventionist and founder and director of Pegasus Recovery Solutions.

Intervention is such an important process for families – it enables them to tell the truth and know the truth. The Love First model brings love to the process – this is a necessary and welcome addition to the intervention process. This revised version of Love First includes the concept of a recovery team with an eye towards long-term recovery. It will be most helpful for families struggling with addictive disease.
— Mel Pohl, MD, Chief Medical Officer, Las Vegas Recovery Center