You are here
The Weather-Resilient Garden: A Defensive Approach to Planning & Landscaping (Paperback)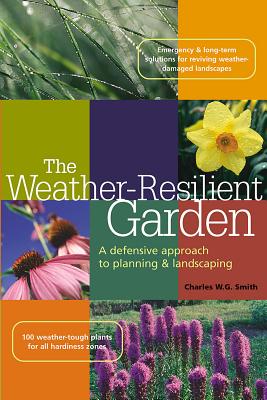 Description
---
Drought, floods, hail, winds, and extreme heat and cold are just a few of the challenges that unpredictable weather can present as you're trying to grow healthy plants. Charles W. G. Smith helps you tackle unforeseen weather changes using his ingenious defensive approach to gardening. With profiles of 100 hardy plants and expert information on dealing with problems as they arise, Smith shows you exactly how to plan and maintain a gorgeous, durable garden that will stand up to whatever nature throws at it. 
About the Author
---
A former horticulturalist for White Flower Farm, Charles W.G. Smith has also been an instructor of vocational agriculture. He has written about gardening and environmental issues for more than a decade. He is the author of The Beginner's Guide to Edible Herbs, The Weather-Resilient Garden, and Raptor!
Praise For…
---
"His advice is worth heeding for any gardener who wants his or her time and effort to pay off every year, regardless of the weather."
-Milwaukee Journal Sentinel
"In addition to sound gardening advice, the book is chock-full of fascinating and useful information."
-Detroit News and Free Press
"Blend an encyclopedia of 100 hardy plants with expert advice on how to organize a garden for inclement weather and you have a solid key to a lasting, beautiful garden.
-The Midwest Book Review
"From evaluating the landscape for problem areas to selecting plants that are as resilient as they are beautiful, Smith shows readers how to plant a gorgeous garden that is tough enough to withstand anything nature might deliver."
-Michigan Gardener