You are here
The Handy Art History Answer Book (Handy Answer Books) (Paperback)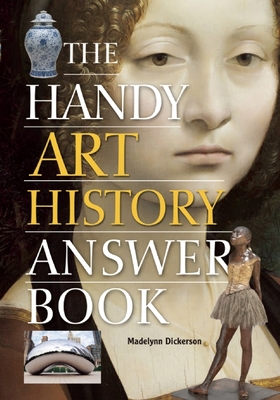 $44.95

Usually Ships in 1-5 Days
Description
---
The Art of Discovery. The Discovery of Art. The History of Art
Warhol, Michelangelo, and da Vinci. Picasso, Monet, and Rembrandt, Ai WeiWei and Jenny Holzer. What were they thinking when they created their masterworks? While we can't always know an artist's exact thoughts, The Handy Art History Answer Book examines their benefactors, their wealth or poverty, their passions, the politics, and the world events that inspired and influenced them. Explore their techniques and materials, the forms, colors and styles, the movements and schools of thoughts, and discover the varied forms and nature of artistic expression.
Tracing art history from cave paintings to contemporary installations, along with Romanticism, Impressionism and the numerous "isms" in-between, The Handy Art History Answer Book guides you through the major art movements, artists, and important art pieces from 35,000 B.C.E. to today. This fascinating book provides an overview of art from its history and basic principles to its evolution, philosophy, and the masters who created groundbreaking works that changed its course forever. Accessible and entertaining, this captivating book answers over 600 questions, such as ... What is beauty? What tools did Paleolithic artists use? Why do Egyptian figures have two left feet? What is the difference between weaving and tapestry? What happened to the Venus de Milo's arms? Why is Emperor Comoodus dressed as Hercules? What are the Classical Greek Orders of Architecture? What do the Yoruba consider beautiful? What was the first Gothic cathedral? How was single-point perspective invented? What makes the Mona Lisa such a great work of art? What is the difference between Art Nouveau and Art Deco? What is a Zen garden? Why wasn't photography considered art in the 19th century? How did Cezanne "astonish Paris with apples"? Why did Jackson Pollock splatter paint all over his canvases? Why do Jeff Koons' balloon animals sell for millions of dollars? Who is Ai Weiwei?
The Handy Art History Answer Book covers not only paintings, but every medium imaginable, including sculpture, architecture, pottery, photography, installation art, and even video games. The concise and clearly written text is enhanced by nearly 150 color images illustrating artistic concepts and highlighting important and memorable artworks. Its helpful bibliography and extensive index add to its usefulness.
About the Author
---
Madelynn Dickerson is an art writer and a former teacher of art history at the American Academy of Art in Chicago. She received a master of science in history of art: history, theory, and display from the University of Edinburgh. She lives in Los Angeles.