You are here
Back to top
Great Book of Tattoo Designs, Revised Edition: More Than 500 Body Art Designs (Paperback)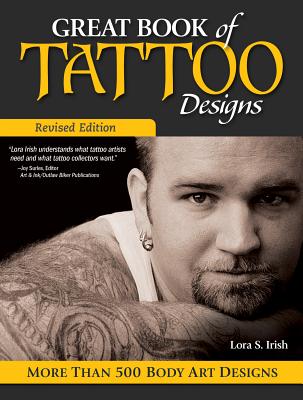 $16.99
Email or call for price.
Description
---
From best-selling artist, author, and graphic designer Lora Irish comes the Great Book of Tattoo Designs, Revised Edition, an appealing and high-quality collection of over 500 tattoo-friendly patterns. Featuring an extensive variety of popular subjects including floral, fantasy, Celtic, pagan, gothic, sacred, oriental, and mythical, this book provides any artist or individual searching for the right tattoo with an unlimited resource of original designs. If you're inspired to make a permanent personal statement with artwork that is truly artwork, these authentic, beautifully drawn patterns are just what you're looking for. This new edition of a classic resource provides limitless inspiration for personal expression. From dancing dragons and Mayan warriors to fairies and flowers, it makes the perfect companion for anyone with an interest in tattoos.
About the Author
---
Lora S. Irish is the author of "Modern Tribal Tattoo Designs," and an internationally known artist and designer. Fox Chapel Publishing has sold more than 300,000 copies of Irish's books. In addition to her well-received designs for tattoo artists, Irish creates books, websites and patterns for a variety of crafts including woodcarving and pyrography. Other acclaimed books by Lora S. Irish include the "Great Book of Dragon Patterns," "The Official Vampire Artist's Handbook," and "Wood Spirits and Green Men."