You are here
Psychotherapy for Psychosis: Integrating Cognitive-Behavioral and Psychodynamic Treatment (Hardcover)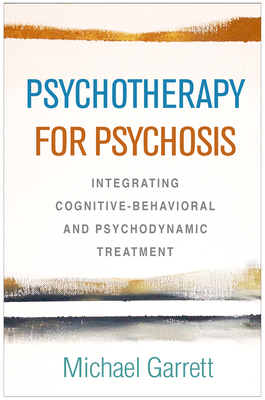 $52.00
Email or call for price.
Description
---
In this innovative book, master clinician Michael Garrett shows how to weave together cognitive-behavioral therapy (CBT) and psychodynamic therapy to support the recovery of persons suffering from psychosis. This integrated framework builds on the strengths of both methods to achieve lasting gains, even for patients with severe, chronic mental illness. The therapist is guided to use CBT to help the patient recognize the literal falsity of delusions, while employing psychodynamic strategies to explore the figurative truth and personal meaning of psychotic symptoms. Extended case presentations and numerous clinical vignettes illustrate Garrett's compassionate, empowering approach.

Winner (Second Place)--American Journal of Nursing Book of the Year Award, Psychiatric and Mental Health Nursing Category
About the Author
---
Michael Garrett, MD, is Professor of Clinical Psychiatry and Director of Psychotherapy Education in the Department of Psychiatry and Behavioral Sciences at the State University of New York (SUNY) Downstate Medical Center in Brooklyn. He is Certified in Psychiatry by the American Board of Psychiatry and Neurology and is a faculty member at the Psychoanalytic Association of New York, affiliated with NYU Langone Health. Dr. Garrett's research interests include the relationship between psychosis and ordinary mental life, and psychotherapy for psychosis. He is a four-time recipient of the SUNY Downstate Distinguished Educator Award.
Praise For…
---
"This is the unique and definitive work on integrating psychodynamic therapy and CBT in the psychotherapy of psychosis--there is no other book like it. To really understand psychotic experience, one must understand the emotional component that is its motivating center. Addressing emotional as well as cognitive phenomena increases the power of the treatment. Explaining complicated ideas in a straightforward manner, this book can be used by a wide range of mental health practitioners. I teach medical students, psychiatry residents, psychoanalytic candidates, and postgraduate analysts, and I would use this book with all of them."--Eric R. Marcus, MD, Professor of Clinical Psychiatry, Columbia University College of Physicians and Surgeons, and supervising and training analyst, Columbia University Center for Psychoanalytic Training and Research

"Psychosis can profoundly interrupt a person's basic sense of self and participation in the world. The mental health field needs to move beyond offering generic support, education, or help solving discrete problems. This book conceptualizes psychosis as a disorder of the whole person and presents a blueprint for integrative psychotherapy. The writing is engaging, thoughtful, practical, and likely to offer insight to both developing and experienced clinicians."--Paul H. Lysaker, PhD, Richard L. Roudebush VA Medical Center, Indianapolis; Department of Psychiatry, Indiana University School of Medicine

"Garrett demonstrates his masterful skills as a clinician through the careful manner in which he elicits the patient's story, his tactful discussions with patients of the nature of reality (very tricky with a psychotic person!), and the gentle way he challenges patients about their delusions and presents psychodynamic interpretations for them to consider as alternative explanations. His approach grafts onto his rich psychodynamic training an appreciation of how cognitive therapy can help patients bridge the gap from a psychotic worldview to a coherent understanding of the meaning of their symptoms, and begin the journey to recovery."--Alex Kopelowicz, MD, Department of Psychiatry and Biobehavioral Sciences, David Geffen School of Medicine at UCLA

"This compelling book marries two therapeutic traditions that are rarely discussed together. It well equips clinicians to traverse the complex psychological terrain of psychosis, resulting in a deep, holistic understanding that is vital for achieving long-term recovery. The book is infused with nuanced, captivating clinical anecdotes that bring the theory and practice of this person-centered therapy to life. It will enhance the work of clinicians who conduct psychotherapy with people with psychosis in all practice settings and will be a valuable addition to mental health training curricula."--Dimitri Perivoliotis, PhD, staff psychologist, VA San Diego Healthcare System; Department of Psychiatry, University of California, San Diego

"This book describes an innovative approach to psychotherapy for people with schizophrenia-spectrum disorders. Garrett describes a thoughtful, humanistic strategy for aligning with people with psychosis, generating deep understanding, and guiding functional change. He takes the reader on an integrative journey that merges biological approaches, CBT, and psychodynamic therapy into an optimal care model. Recovery oriented, compassionate, and person centered, this is an inspiring clinical guide."--Douglas L. Noordsy, MD, Department of Psychiatry, Geisel School of Medicine at Dartmouth

"Psychotherapy for psychotic disorders is an important but neglected area of research, training, and clinical practice. This highly reader-friendly and lucid book is based on Garrett's decades of extensive work in this field. I strongly recommend it to clinicians, researchers, educators, and trainees interested in broadening their knowledge of serious mental illness and its treatment."--Dilip V. Jeste, MD, Distinguished Professor of Psychiatry and Neurosciences, University of California, San Diego

"This book is of high quality in terms of its thoroughness and functional use in clinical practice….The book takes basic CBT principles such as identifying cognitive distortions, in this case psychotic delusions, and combines it with psychodynamic techniques to help patients gain insights into these delusions and improve their ability to distinguish reality from delusional beliefs."
— Doody's Review Service