You are here
How to Speak Emoji (Paperback)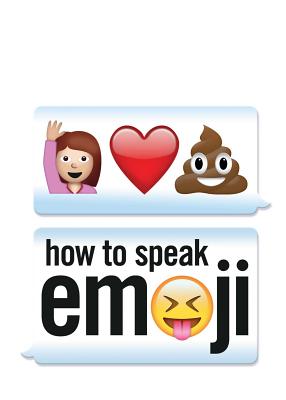 $9.99
Email or call for price.
Description
---
For anyone who doesn't know which is the "cold-sweat" emoji or which emoji to use the morning after a blind drunk, this book is for you. If you don't know which emoji to use when you want to say "no" as emphatically as possible, this book is for you. This is the first book that will teach you HOW TO SPEAK EMOJI.

Text the pizza emoji with a question mark, and you've got dinner sorted out.  Don't know what to use when you're running late, or when you want to organize a fun night out? How to Speak Emoji will help you win at texting. Featuring everyday greetings, pickup lines, workplace expressions, and tried-and-true insults, this book is perfect for the novice user or those looking to test their knowledge.

With a collection of useful and hilarious phrases and a handy dictionary to demonstrate what the emojis really mean, you'll never feel out of your depth again - or make the embarrassing mistake of putting an eggplant symbol next to a peach.

Includes sections such as everyday greetings, in the workplace, in relationships and asking for help and directions, as well as how to translate song titles and film quotes, this is your complete guide to the bright new world of the emoji.
About the Author
---
Fred Benenson is an emoji aficionado, who self-published the first entirely emoji translation of a classic novel, Emoji Dick (a charming pun on Herman Melville's original title). He works at Kickstarter, where he leads the data team, as well as being on the board for Rhizome, a non-profit organization focused on technology and art. Fred has taught copyright and cyberlaw at NYU and occasionally contributes to Wired Magazine on topics that interest him. He lives in New York.