You are here
How Long 'til Black Future Month? (Large Print / Library Binding)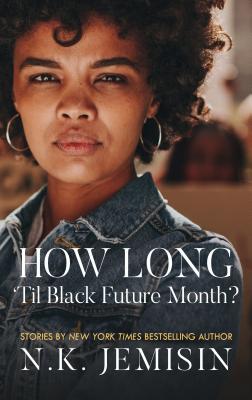 $31.99
Email or call for price.
Description
---
"Marvelous and wide-ranging."--Los Angeles Times"Gorgeous" --NPR Books"Breathtakingly imaginative and narratively bold."--Entertainment Weekly
Three-time Hugo Award winner and NYT bestselling author N. K. Jemisin sharply examines modern society in her first collection of short fiction.
N. K. Jemisin is one of the most powerful and acclaimed authors of our time. In the first collection of her evocative short fiction, which includes never-before-seen stories, Jemisin equally challenges and delights readers with thought-provoking narratives of destruction, rebirth, and redemption.
Spirits haunt the flooded streets of New Orleans in the aftermath of Hurricane Katrina. In a parallel universe, a utopian society watches our world, trying to learn from our mistakes. A black mother in the Jim Crow South must save her daughter from a fey offering impossible promises. And in the Hugo award-nominated short story "The City Born Great," a young street kid fights to give birth to an old metropolis's soul.
For more from N. K. Jemisin, check out:
The Inheritance TrilogyThe Hundred Thousand KingdomsThe Broken KingdomsThe Kingdom of Gods
The Inheritance Trilogy (omnibus edition)Shades in Shadow: An Inheritance Triptych (e-only short fiction)The Awakened Kingdom (e-only novella)
Dreamblood DuologyThe Killing MoonThe Shadowed Sun
The Dreamblood Duology (omnibus)
The Broken EarthThe Fifth SeasonThe Obelisk GateThe Stone Sky
About the Author
---
N. K. Jemisin is the first author in the genre's history to win three consecutive Best Novel Hugo Awards, all for her Broken Earth trilogy. Her work has also won the Nebula, Locus, and Goodreads Choice Awards. She is currently a reviewer for the New York Times Book Review, and she has been an instructor for the Clarion and Clarion West writing workshops. In her spare time she is a gamer and gardener, and she is also single-handedly responsible for saving the world from King Ozzymandias, her dangerously intelligent ginger cat, and his phenomenally destructive sidekick Magpie.