You are here
Surrounded by Narcissists: How to Effectively Recognize, Avoid, and Defend Yourself Against Toxic People (and Not Lose Your Mind) [The Surrounded by Idiots Series] (Hardcover)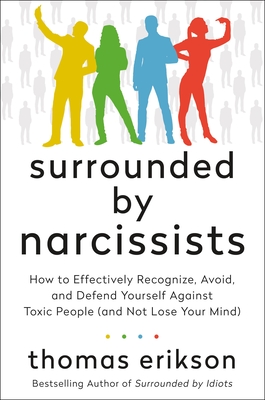 $28.99

Usually Ships in 1-5 Days
Description
---
Part of the bestselling Surrounded by Idiots series!

Internationally bestselling author Thomas Erikson shares the secrets of dealing with everyday narcissists.

Are the narcissists in your life making you miserable? Are you worn out by their constant demands for attention, their absolute conviction they are right (even when they're clearly not), their determination to do whatever they want (regardless of the impact), and their baffling need to control everyone and everything around them?

In this thought-provoking, sanity-saving book, Thomas Erikson helps you understand what makes narcissists tick and, crucially, how to handle them without wearing yourself out in the process. With the help of the simple, four-color behavioral model made famous in Surrounded by Idiots, Erikson provides all the tools you need to manage not just the narcissists around you but everyday narcissistic behaviors as well–something that is becoming more widespread in the age of social media.

Engaging and practical, Surrounded by Narcissists will help you free yourself from the thrall of others' toxic agendas so you can pursue a happier, more fulfilling and successful life.
About the Author
---
Thomas Erikson is a Swedish behavioral expert, active lecturer, and bestselling author. For more than twenty years he has been traveling all over Europe delivering lectures and seminars to executives and managers at a wide range of companies, including IKEA, Coca Cola, Microsoft, and Volvo.

Surrounded by Idiots has been a Swedish runaway bestseller since it was first published in 2014. It has sold over 3 million copies worldwide and been translated into 42 languages.
Praise For…
---
"Outstanding...Erickson impresses with his trademark facility for making research-based discussions accessible and entertaining, and readers will appreciate the insightful guidance. This is another home run from Erikson."— Publishers Weekly Starred Review