You are here
Blindsight (Firefall #1) (Paperback)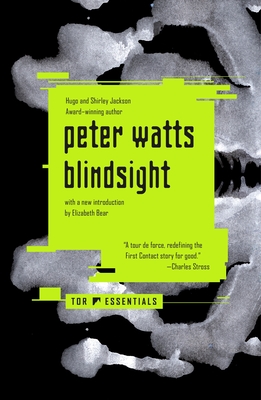 $18.99

Usually Ships in 1-5 Days
Description
---
Hugo and Shirley Jackson award-winning Peter Watts stands on the cutting edge of hard SF with his acclaimed novel, Blindsight

Two months since the stars fell...

Two months of silence, while a world held its breath.

Now some half-derelict space probe, sparking fitfully past Neptune's orbit, hears a whisper from the edge of the solar system: a faint signal sweeping the cosmos like a lighthouse beam. Whatever's out there isn't talking to us. It's talking to some distant star, perhaps. Or perhaps to something closer, something en route.

So who do you send to force introductions with unknown and unknowable alien intellect that doesn't wish to be met?

You send a linguist with multiple personalities, her brain surgically partitioned into separate, sentient processing cores. You send a biologist so radically interfaced with machinery that he sees x-rays and tastes ultrasound. You send a pacifist warrior in the faint hope she won't be needed. You send a monster to command them all, an extinct hominid predator once called vampire, recalled from the grave with the voodoo of recombinant genetics and the blood of sociopaths. And you send a synthesist—an informational topologist with half his mind gone—as an interface between here and there.

Pray they can be trusted with the fate of a world. They may be more alien than the thing they've been sent to find.
About the Author
---
Peter Watts is a former marine biologist, flesh-eating-disease survivor and convicted felon whose novels—despite an unhealthy focus on space vampires—have become required texts for university courses ranging from Philosophy to Neuropsychology.

His work is available in 21 languages, has appeared in over 350 best-of-year anthologies, and been nominated for over 50 awards in a dozen countries. His (somewhat shorter) list of 20 actual wins includes the Hugo, the Shirley Jackson, and the Seiun.

Peter is the author of the Rifters novels (Starfish, Maelstrom) and the Firefall series (Blindsight, Echopraxia).
Praise For…
---
"A magnificent, darkly gleaming jewel of a book that hurdles the contradictions inherent in biochemistry, consciousness, and human hearts without breaking stride." —Elizabeth Bear, author of Karen Memory

"Peter Watts has taken the core myths of the First Contact story and shaken them to pieces. The result is a shocking and mesmerizing performance, a tour-de-force of provocative and often alarming ideas. It is a rare novel that has the potential to set science fiction on an entirely new course." —Karl Schroeder, author of Stealing Worlds

"A tour de force, redefining the First Contact story for good. Peter Watts' aliens are . . . something new and infinitely more disturbing, forcing us to confront unpalatable possibilities about the nature of consciousness." —Charles Stross, author of The Delirium Brief

"Blindsight is excellent. It's state-of-the-art science fiction: smart, dark and it grabs you by the throat from page one. Like a C J Cherryh book it makes you feel the danger of the hostile environment (or lack of one) out there. And unlike many books it plays with some fascinating possibilities in human development (I like the idea of some disabilities becoming advantages here) and some disconcerting ideas about human consciousness (understanding what action preceding though actually means)." —Neal Asher

"If Samuel R. Delany, Greg Egan and Vernor Vinge had collaborated to update Algis Budrys's classic Rogue Moon for the new millennium, they might have produced a novel as powerful and as uniquely beautiful as Blindsight." —Spider Robinson, co-author of Variable Star by Robert A. Heinlein and Spider Robinson