You are here
Bad Paper: Inside the Secret World of Debt Collectors (Paperback)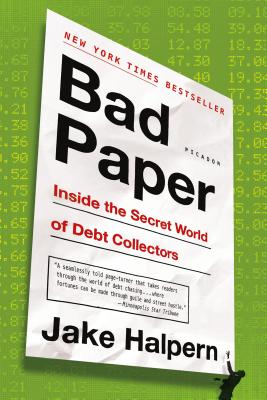 $19.00

Usually Ships in 1-5 Days
Description
---
"The book teems with eccentric characters and scenes that made my skin crawl.... Explained simply, read easily, Bad Paper defies expectations. It should also raise quite a few alarms."-Colin Dwyer, NPR

The Federal Trade Commission receives more complaints about rogue debt collecting than it does about any activity besides identity theft. In Bad Paper, journalist Jake Halpern reveals why. He tells the story of Aaron Siegel, a former banking executive, and Brandon Wilson, a former armed robber, who become partners and go in quest of "paper"-the uncollected debts that are sold off by banks for pennies on the dollar. As Aaron and Brandon learn, the world of consumer debt collection is an unregulated shadowland, where operators often make unwarranted threats and even collect debts that are not theirs.

Introducing an unforgettable cast of characters, Halpern chronicles Aaron and Brandon's lives as they manage high-pressure call centers, hunt for paper in Las Vegas casinos, and meet in parked cars to sell the social security numbers and account information of unsuspecting consumers. The result is a vital exposé on the cost of a system that compounds the troubles of hardworking Americans and an astonishing feat of storytelling.
About the Author
---
Jake Halpern is the author of Bad Paper, an Amazon Best Book of 2014, and Nightfall, one of a number of young adult novels. His journalism has appeared in the New Yorker, the New York Times, the Wall Street Journal, and the Atlantic, among many other publications. He is also a contributor to NPR's All Things Considered and This American Life and teaches journalism at Yale University in New Haven, where he lives.
Praise For…
---
"A seamlessly told page-turner that takes readers through the world of debt chasing ... where fortunes can be made through guile and street hustle." —Minneapolis Star Tribune

"The book teems with eccentric characters and scenes that made my skin crawl.... Explained simply, read easily, Bad Paper defies expectations. It should also raise quite a few alarms." —Colin Dwyer, NPR

"Bad Paper gives readers an intimate knowledge of the debt-collecting industry, but more important, it gives a comprehensive profile of the people in our country who live and die by the industry. This, ultimately, is the book's power and attraction." —Frank Tempone, Chicago Tribune

"Halpern's proposed remedies are reasonable ... [and] he entertains us with his colorful cast." —Roger Lowenstein, The Wall Street Journal

"[A] wonderful inquiry into the seamy, multilayered world of consumer debt collection . . . both an entertaining sociology of the debt-collecting fraternity and a picaresque romp through the industry's most unsavory byways." —Julia M. Klein, The Boston Globe

"An enjoyable and educational read, with stories that sound too good to be true and word-for-word conversations that a Hollywood screenwriter couldn't make up." —Jonathan Epstein, Buffalo News

"A dramatic rise-and-fall tale . . . Halpern brings unexpected literary heft to the world of debt collection." —Kirkus

"By fostering a greater understanding of the workings of debt collection, [Bad Paper] sheds enough light into the shadows to compel readers to push for change." —Publishers Weekly

"Bad Paper is nonfiction that reads like the finest thriller: suspenseful and frightening, eye-opening, and even, at times, funny. Jake Halpern's fascinating, fearless tour of the underworld of debt collections introduces us to a cast of characters--the (mostly) men behind the scary phone calls--who deserve to be the stars of the next great HBO drama." —Joseph Finder, bestselling author of Suspicion and Paranoia

"Bad Paper is a riveting tale, fast-paced and filled with unforgettable characters. It is also a deeply reported and powerful exploration of America's shadow economy." —David Grann, author of The Lost City of Z and staff writer for The New Yorker

"Jake Halpern knows how to follow the money. Only a consummate reporter could have achieved such an intimateview of the two debt collectors he chronicles here. And because he really knows how to tell a story, we can't take our eyes off this nasty business." —Anne Fadiman, National Book Critics Circle Award–winning author of The Spirit Catches You and You Fall Down

"Bad Paper is a terrific achievement--for the wonderful Ponzi-scheme absurdity of the story, for the outsized characters and the skeptical sympathy they elicit. It's a book that hangs out in that gray and widening zone where the civilization we take for granted starts to break down, and it reads like Michael Lewis with a sense of the abyss. It's about downward mobility and the subtle apocalypse and it feels important--important in the way few books ever are." —Gideon Lewis-Kraus, author of A Sense of Direction

"Jake Halpern's gripping tale provides an unprecedented view into the criminal underbelly of consumer finance. It's required reading not only for everybody with creditors on the line, but for anybody who cares about money or debt." —Felix Salmon, senior editor, Fusion

"The old homily 'there is no place like home' has never been more poignantly and wittily revealed than by Jake Halpern in these lovely vignettes." —Studs Terkel on Braving Home

"Strangely fascinating and endearing . . . In short, it's terrific." —Bill Bryson on Braving Home

"Not for a long time have I read a book so good and so wise." —Robert Stone on Braving Home