You are here
Construction Management Jumpstart: The Best First Step Toward a Career in Construction Management (Paperback)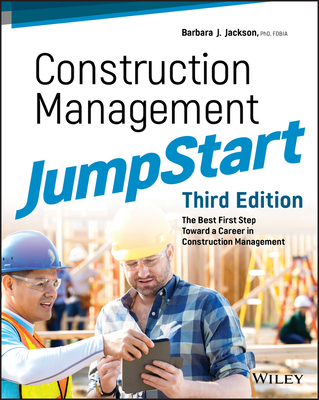 $31.00
Email or call for price.
Description
---
The bestselling introduction to the field, updated and expanded
Construction Management Jumpstart is the definitive introduction to the field, providing a detailed walkthrough of each stage of a project from the construction manager's perspective. Authoritative coverage of fundamental concepts and practices clearly delineates the manager's role, while step-by-step guidance provides valuable instruction for essential management duties. This new third edition has been updated to reflect the field's current environment and best practices, giving students a highly-relevant introduction to an evolving industry. Three new chapters include insightful discussion of the pre-construction phase, team management, and sustainability; challenging chapter review questions help reinforce important concepts and help translate them to practice.
Construction managers work alongside project managers, and use many of the same tried-and-true techniques--but construction managers must also adhere to a vast array of industry-specific standards and regulations. This book helps you build a foundation in critical concepts and practices while tailoring traditional project management techniques to the construction management sphere.
Understand essential management roles and responsibilities for each stage of a construction project
Learn how to estimate costs, administer contracts, manage operations, monitor performance, assess risks, and more
Explore critical concepts in planning and scheduling that help keep projects running on-time and on-budget
Discover how Building Information Modeling software is impacting the industry, and how it affects construction management
Evolving regulations, advancing technology, and economies in flux all impact the construction industry in a number of ways; management's job is to clear obstacles to delivery and streamline the project's completion. To be effective, construction managers must stay up to date on the latest tools and best practices, and have a strong grasp of the fundamentals of the role. Construction Management Jumpstart provides a practical, highly-relevant introduction to the field.
About the Author
---
Barbara J. Jackson, PhD, FDBIA, is Director of the Franklin L. Burns School of Real Estate and Construction Management in the Daniels College of Business, at the University of Denver. She is also a Professor of Construction Management and Design-Build at DU. She holds a BS in Housing and Design, an MS in Construction Management, and a PhD in Education and Human Resources. With over 20 years of experience as a licensed contractor and design-builder, she is a nationally recognized speaker and consultant on alternative project delivery, integrated project leadership, and the transforming culture of the AEC industry.