You are here
Back to top
Democratic Rules of Order: Easy-To-Use Rules for Meetings of Any Size (Paperback)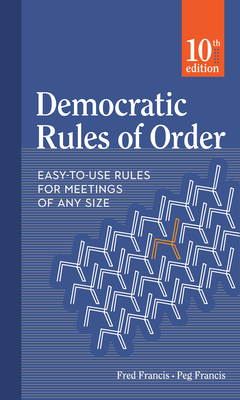 $9.99

Usually Ships in 1-5 Days
Description
---
Revolutionize meetings Over 20,000 copies sold - the easy-to-use guide for running democratic meetings of any size
The key to promoting true democracy in meetings is clear, easy-to-understand rules of order that support the right of each member to participate fully and equally, and the right of the majority to make decisions while respecting minority rights.
An alternative to Robert's Rules of Order and other complicated and unwieldy guides, Democratic Rules of Order is the guide for the rest of us. It lays out clear, concise, easy-to-use rules for governing meetings from clubs and non profits to formal meetings. Benefits include:
A complete set of laws for governing meetings
Can be read in an hour
Plain language, free of complex protocol and jargon to enable equal and efficient participation
Tested and honed through thousands of successful meetings
Adoptable as the official rules of order for meetings of any size
Allows informality, including decisions by consensus, but ensures formality when needed
A sample meeting that uses all the rules plus answers to 31 common questions.
Now in its tenth edition, and with over 20,000 copies sold, Democratic Rules of Order will produce fair, efficient, and harmonious decisions in meetings of any size or complexity.
About the Author
---
Peg Francis, and her late husband Fred Francis, had decades of experience with meetings in school, college, business, church, and community organizations as members and as officers. They saw the urgent need for more justice and stronger democracies and believed that for a democracy to work successfully, the populace itself must understand and practice democratic principles. They brought their skills as former educators to bear to create a set of rules that are easy-to-learn, easy-to-use, and widely applicable in meetings and that promote democracy at a grass-roots level. Always seeking to improve, they were also entrepreneurs who have designed several commercial products including clean-burning wood stoves, rodent-proof composters, and children's building sets. Peg lives in Victoria, Canada.