You are here
Beyond Schizophrenia: Living and Working with a Serious Mental Illness (Paperback)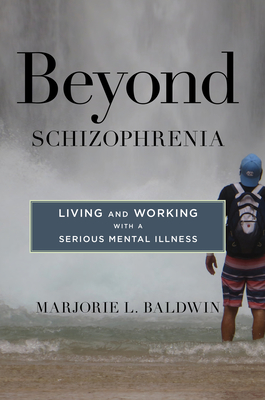 $32.00
Email or call for price.
Description
---
The experience of living and working with schizophrenia is often fraught with challenges and setbacks. This book is a comprehensive attempt to explain why, in spite of near-miraculous advances in medication and treatment, persons with mental illness fare worse than almost any other disadvantaged group in the labor market. As a researcher of economics and disability and the mother of a son with schizophrenia, the author speaks from both professional and personal experience. First, she looks at societal factors that affect employment outcomes for persons with schizophrenia (or other serious mental illness), including stigma and discrimination, investments in human capital, the quality of mental health services, and the support of family and friends. Then she examines workplace factors that affect employment outcomes, including employer mandates in the Americans with Disabilities Act, the decision to disclose a diagnosis of mental illness at work, the interaction between job demands and functional limitations, and job accommodations for persons with a serious mental illness. Giving weight to both perspectives, the final chapter outlines a set of policy recommendations designed to improve employment outcomes for this population.
About the Author
---
Marjorie L. Baldwin is a professor in the Department of Economics at the W. P. Carey School of Business, Arizona State University, whose son was diagnosed with schizophrenia in his junior year of college. Baldwin is a labor economist who has conducted research on work disability and disability-related discrimination for 25 years. After her son's diagnosis, she focused her disability studies on persons with mental illness in the labor market. She is the author or co-author of more than 50 articles and book chapters, and has a national reputation for her studies of employment outcomes among persons with serious mental illness (SMI). Baldwin has been a principal investigator for major studies of labor market discrimination against persons with SMI, sponsored by the National Institute of Mental Health, National Institute on Disability and Rehabilitation Research, and National Institute of Drug and Alcohol Abuse. She is Academic Director of Public Health Programs in the College of Health Solutions at Arizona State. She is also a member of the National Academy of Social Insurance, where she is chair of the Study Panel of Workers' Compensation Data.