You are here
The Judgment of Paris: The Revolutionary Decade That Gave the World Impressionism (Paperback)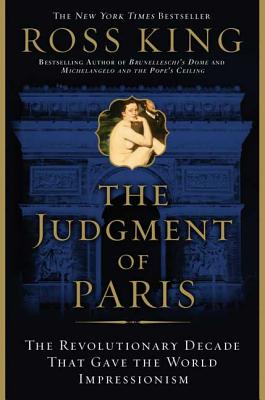 $21.00

Usually Ships in 1-5 Days
Description
---
With a novelist's skill and the insight of an historian, bestselling author Ross King recalls a seminal period when Paris was the artistic center of the world, and the rivalry between Meissonier and Manet.

While the Civil War raged in America, another revolution took shape across the Atlantic, in the studios of Paris: The artists who would make Impressionism the most popular art form in history were showing their first paintings amidst scorn and derision from the French artistic establishment. Indeed, no artistic movement has ever been quite so controversial. The drama of its birth, played out on canvas and against the backdrop of the Franco-Prussian War and the Commune, would at times resemble a battlefield; and as Ross King reveals, it would reorder both history and culture, and resonate around the world.
About the Author
---
Born and raised in Canada, Ross King has lived in England since 1992. In 2002—03, two books of his were published in the United States, Domino, about the world of masquerades and opera in 18th century London and the New York Times bestselling Michelangelo and the Pope's Ceiling.

Nominated for a National Book Critics Circle Award in 2003 in the category of critisicm, in Michelangelo and the Pope's Ceiling King tells the story of the four years—1508-1512.—Michelangelo spent painting the ceiling of the newly restored Sistine chapel. In this extraordinary book, he presents a magnificent tapestry of day-to-day life of the ingenious Sistine scaffolding and outside in the upheaval of early 16th century Rome.

King's highly acclaimed Brunelleschi's Dome: How a Renaissance Genius Reinvented Architecture, was an instant hit in the U.S., landing on the New York Times, Boston Globe and San Francisco Chronicle bestseller lists and becoming a handselling favorite among booksellers. Brunelleschi's Dome was chosen "The 2000 Book Sense Nonfiction Book of the Year" and a Book Sense 76 top ten selection.

Anyone familiar with Ross King's writing knows that he has an astonishing knowledge of European cultural history. He originally planned a career in academia, earning his Ph.D. in English Literature and moving to England to assume a research position at the University of London.

King lives near Oxford, England, in the historic town of Woodstock, the site of Blenheim Palace. He is a devoted cyclist and hikes regularly in both the Pyrenees and the Canadian Rockies.