You are here
A History of France (Hardcover)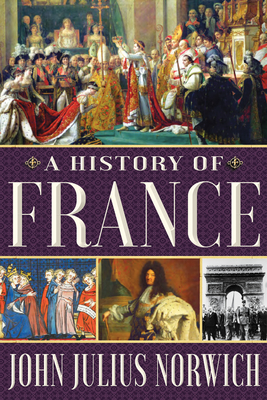 $30.00
Email or call for price.
Description
---
John Julius Norwich--called a "true master of narrative history" by Simon Sebag Montefiore--returns with the book he has spent his distinguished career wanting to write, A History of France: a portrait of the past two centuries of the country he loves best. Beginning with Julius Caesar's conquest of Gaul in the first century BC, this study of French history comprises a cast of legendary characters--Charlemagne, Louis XIV, Napoleon, Joan of Arc and Marie Antionette, to name a few--as Norwich chronicles France's often violent, always fascinating history. From the French Revolution--after which neither France, nor the world, would be the same again--to the storming of the Bastille, from the Vichy regime and the Resistance to the end of the Second World War, A History of France is packed with heroes and villains, battles and rebellion, stories so enthralling that Norwich declared, "I can honestly say that I have never enjoyed writing a book more." With his celebrated stylistic panache and expert command of detail, Norwich writes in an inviting, intimate tone, and with a palpable affection for France. One of our greatest contemporary historians has deftly crafted a comprehensive yet concise portrait of the country's historical sweep.
About the Author
---
JOHN JULIUS NORWICH is the author of many books, including Four Princes: Henry VIII, Francis I, Charles V, Suleiman the Magnificent and the Obsessions that Forged Modern Europe; A History of Venice; Byzantium; and the New York Times bestseller Absolute Monarchs: A History of the Papacy.