You are here
Back to top
Preacher's Purge (Preacher/First Mountain Man #29) (Mass Market)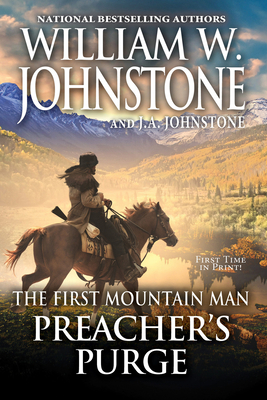 $8.99

Usually Ships in 1-5 Days
Description
---
Legendary national bestselling Western authors William W. Johnstone and J.A. Johnstone return with the blazing new installment in their long-running series featuring Preacher, the First Mountain Man, a pioneering hero who embodies the Johnstone brand – and the American Frontier.

When greed overtakes men's souls, it falls to the righteous mountaineer known as Preacher to rain fire and brimstone upon them from the barrels of his guns . . .

JOHNSTONE COUNTRY.
THE SPIRIT OF COURAGE AND TRUE GRIT.

Preacher has agreed to escort Barnaby Cooper through Dakota Territory's hills to establish a trading post. Accompanied by his friends Lorenzo and Tall Dog, the mountain man hopes they'll be able to protect Cooper from Sioux warriors who don't want any white man trespassing on their sacred grounds.

But the Sioux aren't the only hostiles staking their claim in the region. Englishman Albion Shaw knows there's gold in the hills. And with a band of cutthroat killers to do his bidding, Shaw has enough manpower and firepower to keep both trappers and tribes from settling on the land where he can build an empire.

But Shaw didn't reckon on crossing a man like Preacher. A man who not only knows what it takes to survive in the wilderness, but a man who will fight for freedom and justice to his very last breath—and his very last bullet . . .
About the Author
---
William W. Johnstone is the #1 bestselling Western writer in America and the New York Times and USA Today bestselling author of hundreds of books, with over 50 million copies sold. Born in southern Missouri, he was raised with strong moral and family values by his minister father, and tutored by his schoolteacher mother. He left school at fifteen to work in a carnival and then as a deputy sheriff before serving in the army. He went on to become known as "the Greatest Western writer of the 21st Century." Visit him online at WilliamJohnstone.net.

J.A. Johnstone learned to write from the master himself, Uncle William W. Johnstone, who began tutoring J.A. at an early age. After-school hours were often spent retyping manuscripts or researching his massive American Western History library as well as the more modern wars and conflicts. J.A. worked hard and learned, later going on to become the co-author of William W. Johnstone's many bestselling westerns and thrillers. J.A. Johnstone lives on a ranch in Tennessee and more information is at WilliamJohnstone.net.