You are here
Lincoln in the Bardo: A Novel (CD-Audio)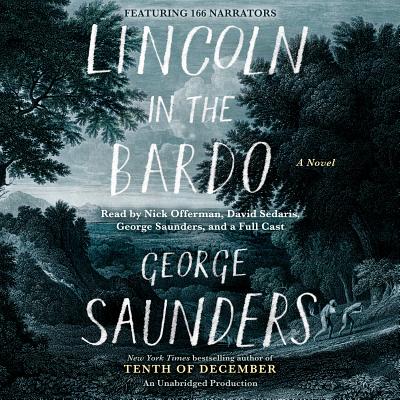 $35.00
Email or call for price.
February 2017 Indie Next List
---
"Saunders' first novel has a steep entry curve. It's not a novel that reveals itself quickly and easily, but if you give it your attention, if you burrow deep into the book, you'll be eminently rewarded. There is a richness and depth of humanity here. There is the strange and wonderful. There is love and grief and mystery all brought together in the story of Abraham Lincoln's dead son, the Civil War, and what may happen to us all after we leave the mortal coil. It's a beautiful and moving book that will stay with you for a long, long while."
— Jason Vanhee (E), University Book Store, Seattle, WA
Summer 2018 Reading Group Indie Next List
---
"The fact that Saunders' first novel is awesome is no surprise, but everything else about it is. Lincoln in the Bardo takes a historical event and uses a recognizable form—bibliographic citation—and flips it, flips us, until we are no longer able to distinguish what is truth. Saunders reminds us that, ultimately, history is just people telling stories."
— Claire Anderson-Ramos, BookPeople, Austin, TX
Description
---
***WINNER OF THE 2018 AUDIE AWARD FOR AUDIOBOOK OF THE YEAR***

The long-awaited first novel from the author of Tenth of December: a moving and original father-son story featuring none other than Abraham Lincoln, as well as an unforgettable cast of supporting characters, living and dead, historical and invented

February 1862. The Civil War is less than one year old. The fighting has begun in earnest, and the nation has begun to realize it is in for a long, bloody struggle. Meanwhile, President Lincoln's beloved eleven-year-old son, Willie, lies upstairs in the White House, gravely ill. In a matter of days, despite predictions of a recovery, Willie dies and is laid to rest in a Georgetown cemetery. "My poor boy, he was too good for this earth," the president says at the time. "God has called him home." Newspapers report that a grief-stricken Lincoln returns, alone, to the crypt several times to hold his boy's body.

From that seed of historical truth, George Saunders spins an unforgettable story of familial love and loss that breaks free of its realistic, historical framework into a supernatural realm both hilarious and terrifying. Willie Lincoln finds himself in a strange purgatory where ghosts mingle, gripe, commiserate, quarrel, and enact bizarre acts of penance. Within this transitional state—called, in the Tibetan tradition, the bardo—a monumental struggle erupts over young Willie's soul.

Lincoln in the Bardo is an astonishing feat of imagination and a bold step forward from one of the most important and influential writers of his generation. Formally daring, generous in spirit, deeply concerned with matters of the heart, it is a testament to fiction's ability to speak honestly and powerfully to the things that really matter to us. Saunders has invented a thrilling new form that deploys a kaleidoscopic, theatrical panorama of voices to ask a timeless, profound question: How do we live and love when we know that everything we love must end?

The 166-person full cast features award-winning actors and musicians, as well as a number of Saunders' family, friends, and members of his publishing team, including, in order of their appearance:
 
Nick Offerman as HANS VOLLMAN
David Sedaris as ROGER BEVINS III
Carrie Brownstein as ISABELLE PERKINS
George Saunders as THE REVEREND EVERLY THOMAS
Miranda July as MRS. ELIZABETH CRAWFORD
Lena Dunham as ELISE TRAYNOR
Ben Stiller as JACK MANDERS
Julianne Moore as JANE ELLIS
Susan Sarandon as MRS. ABIGAIL BLASS
Bradley Whitford as LT. CECIL STONE
Bill Hader as EDDIE BARON
Megan Mullally as BETSY BARON
Rainn Wilson as PERCIVAL "DASH" COLLIER
Jeff Tweedy as CAPTAIN WILLIAM PRINCE
Kat Dennings as MISS TAMARA DOOLITTLE
Jeffrey Tambor as PROFESSOR EDMUND BLOOMER
Mike O'Brien as LAWRENCE T. DECROIX
Keegan-Michael Key as ELSON FARWELL
Don Cheadle as THOMAS HAVENS
and
Patrick Wilson as STANLEY "PERFESSER" LIPPERT
with
Kirby Heyborne as WILLIE LINCOLN,
Mary Karr as MRS. ROSE MILLAND,
and Cassandra Campbell as Your Narrator
About the Author
---
George Saunders is the author of eight books, including the story collections Pastoralia and Tenth of December, which was a finalist for the National Book Award. He has received fellowships from the Lannan Foundation, the American Academy of Arts and Letters, and the Guggenheim Foundation. In 2006 he was awarded a MacArthur Fellowship. In 2013 he was awarded the PEN/Malamud Award for Excellence in Short Fiction and was included in Time's list of the one hundred most influential people in the world. He teaches in the creative writing program at Syracuse University.
Praise For…
---
"A luminous feat of generosity and humanism."—Colson Whitehead, The New York Times Book Review

"Grief guts us all, but rarely has it been elucidated with such nuance and brilliance as in Saunders's Civil War phantasmagoria. Heartrending yet somehow hilarious, Saunders's zinger of an allegory holds a mirror to our perilous current moment."—O: The Oprah Magazine

"An extended national ghost story . . . As anyone who knows Saunders's work would expect, his first novel is a strikingly original production."—The Washington Post

"Saunders's beautifully realized portrait of Lincoln . . . attests to the author's own fruitful transition from the short story to the long-distance form of the novel."—Michiko Kakutani, The New York Times

"Profound, funny and vital . . . the work of a great writer."—Chicago Tribune

"Heartbreaking and hilarious . . . For all its divine comedy, Lincoln in the Bardo is also deep and moving."—USA Today

"Along with the wonderfully bizarre, empathy abounds in Lincoln in the Bardo."—Time

"There are moments that are almost transcendentally beautiful, that will come back to you on the edge of sleep. And it is told in beautifully realized voices, rolling out with precision or with stream-of-consciousness drawl."—NPR

"Lincoln in the Bardo is part historical novel, part carnivalesque phantasmagoria. It may well be the most strange and brilliant book you'll read this year."—Financial Times

"A masterpiece."—Zadie Smith

"Ingenious . . . Saunders—well on his way toward becoming a twenty-first-century Twain—crafts an American patchwork of love and loss, giving shape to our foundational sorrows."—Vogue

"Saunders is the most humane American writer working today."—Harper's Magazine

"The novel beats with a present-day urgency—a nation at war with itself, the unbearable grief of a father who has lost a child, and a howling congregation of ghosts, as divided in death as in life, unwilling to move on."—Vanity Fair

"A brilliant, Buddhist reimagining of an American story of great loss and great love . . . Saunders has written an unsentimental novel of Shakespearean proportions, gorgeously stuffed with tragic characters, bawdy humor, terrifying visions, throat-catching tenderness, and a galloping narrative, all twined around the luminous cord connecting a father and son and backlit by a nation engulfed in fire."—Elle

"Wildly imaginative."—Marie Claire

"Mesmerizing . . . Dantesque . . . A haunting American ballad."—Publishers Weekly (starred review)

"Exhilarating . . . Ruthless and relentless in its evocation not only of Lincoln and his quandary, but also of the tenuous existential state shared by all of us." —Kirkus Reviews (starred review)

"It's unlike anything you've ever read, except that the grotesque humor, pathos, and, ultimately, human kindness at its core mark it as a work that could come only from Saunders."—The National