You are here
Aug 9 - Fog (Hardcover)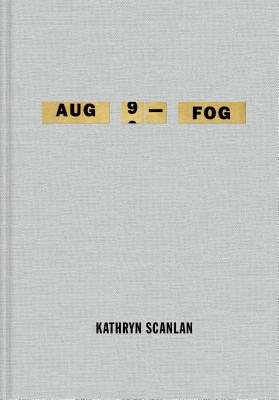 $18.00

Usually Ships in 1-5 Days
Description
---
"The searing strokes of this book remind me of the infinitude inside every life." --Leslie Jamison

Paris Review Staff Pick, one of Chicago Tribune's 25 Hot Books of Summer, and one of The A.V. Club's 15 Most Anticipated Books of 2019

A stark, elegiac account of unexpected pleasures and the progress of seasons

Fifteen years ago, Kathryn Scanlan found a stranger's five-year diary at an estate auction in a small town in Illinois. The owner of the diary was eighty-six years old when she began recording the details of her life in the small book, a gift from her daughter and son-in-law. The diary was falling apart—water-stained and illegible in places—but magnetic to Scanlan nonetheless.

After reading and rereading the diary, studying and dissecting it, for the next fifteen years she played with the sentences that caught her attention, cutting, editing, arranging, and rearranging them into the composition that became Aug 9—Fog (she chose the title from a note that was tucked into the diary). "Sure grand out," the diarist writes. "That puzzle a humdinger," she says, followed by, "A letter from Lloyd saying John died the 16th." An entire state of mourning reveals itself in "2 canned hams." The result of Scanlan's collaging is an utterly compelling, deeply moving meditation on life and death.

In Aug 9—Fog, Scanlan's spare, minimalist approach has a maximal emotional effect, remaining with the reader long after the book ends. It is an unclassifiable work from a visionary young writer and artist—a singular portrait of a life revealed by revision and restraint.
About the Author
---
Kathryn Scanlan lives in Los Angeles. Her stories have appeared in NOON, Fence, American Short Fiction, Tin House, Caketrain, and The Iowa Review, among other publications.
Praise For…
---
" Kathryn Scanlan salvaged an old woman's diary from an estate sale in Illinois and spent the next decade whittling its entries into sharp, slivered shards of beauty, every page a small prose poem of ordinary living, in all its banality and force: first snowfall, berries for jam, a house burnt down, a husband dying. The searing strokes of this book remind me of the infinitude inside every life." --Leslie Jamison, The A.V. Club (favorite books of the decade)

"Elegant and unpretentious . . . [Aug 9 -- Fog] grants every reader that simultaneous pull between mystery and intimacy . . . these barest clues—of new lights installed and tomatoes canned, tombstones bought and weeds tormented, a self-help book with a photograph from decades before tucked inside—are the ones that make us fall in love. —Nadja Spiegelman, The Paris Review (Staff Pick)

"[Full of] epigrammatic bursts of language . . . This, too, is what language bestows, the ability to freeze a moment as it is enacted, not so it can be re-created later but so we can recognize its evanescence, which establishes a bond between the diarist and ourselves . . . 'Sun shining then rainy but clearing,' Scanlan ends her version of the diary. And in those six unpunctuated words, the entire history of human perseverance is revealed." --David L. Ulin, Los Angeles Times

"A spare but evocative story . . . Aug 9 — Fog uses carefully hewn language to capture an ordinary Midwestern life." --Laura Pearson, Chicago Tribune (25 Hot Books of Summer)

"To be read in one afternoon, then reread many afternoons over . . . Scanlan glazes the mundane with meaning . . . Scanlan's arrangement of the author's words render a tender and human portrait of old age, relating daily experiences of illness, hobbies, care from family members, and loneliness . . . Her prose pursues an object of fascination and presents it with the language most fitting, regardless of convention." --Julia Matthews, ZYZZYVA

"[Aug 9- Fog] is a slim book, rich with empty space in which Scanlan punctuates a moving, elliptical narrative of weather, loss, and the poetry of an ordinary life . . . [I]ts minimalism is deceptive, as the voice Scanlan conjures from the diary pages lingers long in the mind." --Stephen Sparks, Literary Hub

"[Scanlan's] project will certainly compel strong reaction, but the product is absolutely fascinating. Its poetic identity comes from its epigrammatic structure; its imagistic touch. A dream-like narrative emerges here, as if from the titular fog . . . A terribly melancholic book that somehow manages to carry affirmation; perhaps it is in the transcendence of the old woman's voice, its dogged survival to our digital present." --Nick Ripatrazone, The Millions

"Scanlan's outstanding debut inventively adapts a real woman's diary . . . [Aug 9-Fog] is a fascinating chronicle of Scanlan's obsession, but, more than that, it transforms a seemingly ordinary life into a profound and moving depiction of how humans can love and live. Scanlan's portrait of an everywoman feels entirely new." --Publishers Weekly (starred review)

"Wholly original . . . [Aug 9–Fog] blurs the lines between nonfiction and fiction, meditating on the passage of time through the life of one woman." --The A.V. Club

"Aug 9—Fog bridges the gap between generations; its central relationship is one created across decades through an intimate act of collaboration. It is a fascinating book, at once philosophical and tender, addressing themes of authorship and legacy, life, death, depth, debt . . . it boldly quarries the past, answering vital questions about the present in doing so." --Xenobe Purvis, The Stinging Fly

"Aug 9-Fog is brimming with the authentic boredom of actual life . . . Like most sincere expressions of thanks, this novel is notable for its straight-shooting anti-sentimentality. The writing celebrates life without becoming self-indulgent; for all its praise of dismissible minutiae, Aug 9-Fog remains disciplined, and never enumerates life's small pleasures in the hopes of fluffing up the page-count." --Michael Mungiello, Barrelhouse Magazine

"Reading Fog [is] fascinating and pleasurable . . . They suffice, Ms. Scanlan's selections, to build a world . . . Whatever images a reader creates from details implied but never stated in Aug 9 — Fog, the feeling of the woman's life touches its pages. Not a generic "old woman" life, yet somehow universal." --Jean Huets, On the Seawall

"There is an undeniable poignancy in the readerly act of filling in the gaps of this octogenarian's life, her voice pulled into the present from where it had been suspended . . . A work of frequent beauty." --Kirkus