You are here
Specimen Days: A Novel (Paperback)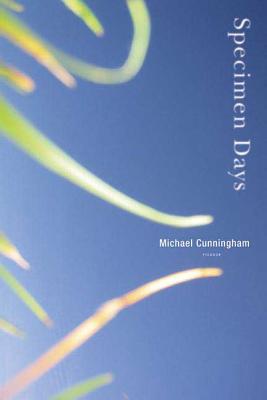 $20.00

Usually Ships in 1-5 Days
Description
---
In each section of Michael Cunningham's bold new novel, his first since The Hours, we encounter the same group of characters: a young boy, a man, and a woman. "In the Machine" is a ghost story that takes place at the height of the industrial revolution as human beings confront the alienating realities of the new machine age. "The Children's Crusade," set in the early twenty-first century, plays with the conventions of the noir thriller as it tracks the pursuit of a terrorist band that is detonating bombs, seemingly at random, around the city. The third part, "Like Beauty," evokes a New York 150 years into the future, when the city is all but overwhelmed by refugees from the first inhabited planet to be contacted by the people of Earth.

Presiding over each episode of this interrelated whole is the prophetic figure of the poet Walt Whitman, who promised his future readers, "It avails not, neither time or place . . . I am with you, and know how it is." Specimen Days is a genre-bending, haunting, and transformative ode to life in our greatest city, and a meditation on the direction and meaning of America's destiny. It is a work of surpassing power and beauty by one of the most original and daring writers at work today.
About the Author
---
MICHAEL CUNNINGHAM is the author of the novels A Home at the End of the World, Flesh and Blood, Specimen Days, By Nightfall, and The Snow Queen, as well as the collection A Wild Swan and Other Tales, and the nonfiction book Land's End: A Walk in Provincetown. He is the recipient of a Whiting Award and a Guggenheim Fellowship, and his work has appeared in The New Yorkerand The Best American Short Stories. The Hours was a New York Times bestseller, and the winner of both the PEN/Faulkner Award and the Pulitzer Prize. Raised in Los Angeles, Michael Cunningham lives in New York City, and is a senior lecturer at Yale University.
Praise For…
---
"Specimen Days offers just about every kind of literary pleasure, and all of them in abundance: suspense, hilarity, invention, romance, and passage after passage of breathtaking prose." —Ethan Canin, The Washington Post

"Michael Cunningham has taken a quantum leap imaginatively, stylistically, and thematically in this bewitching novel of a metamorphosing New York City. . . . Brilliantly conceived, empathic, darkly humorous, and gorgeously rendered, Cunningham's galvanizing novel . . . is a genuine literary event." —Booklist (starred review)

"An extraordinary book, as ambitious as it is generous . . . I promise you fun, marvels, adventure, love stories, plus the uninhibited exercise of a great natural writer and an inspired historian. . . . This is a transforming book, the lovely, tattered record of our time and place, and of our wish to prevail." —David Thomson, The New York Observer

"[Specimen Days] is a love song of a novel, rich and melancholy and overflowing with smartness." —The Boston Globe

"Another dazzling tour de force." —Library Journal

"An astonishing accomplishment and the best book Cunningham has written." —O magazine

"One of the most luminous and penetrating novels to appear this year." —The Oregonian (Portland)

"It is his unique moral vision that successfully hinges three distinct narrative panels into a triptych of unified beauty. It's what raises his individual stories out of their genres into the glorious realm of art . . . Big, haunting, beautiful." —Los Angeles Times Book Review

"[A] tour de force." —People****

"Exquisitely written." —Entertainment Weekly

"Stunning . . . It is a rich reading experience, going from the brutal factory scenes to the thriller of the middle section, and then on to the brave new world of the final section. Cunningham has made something substantively and stylistically bold out of these stories, keeping his many fires stoked and pulling the parts together as a brilliant whole." —The Seattle Times

"Quite simply and even more impressively than in The Hours, Cunningham writes like an angel. . . . Read this magical, spellbinding novel." —The Atlanta Journal-Constitution

"Like Whitman, Cunningham too sings America, in all its grime and glory . . . and Specimen Days is a book of wonders." —The Times Picayune (New Orleans)

"Line by line, page by page, one of the most beautifully executed experiments of the decade." —NPR's All Things Considered