You are here
When the Sun Bursts: The Enigma of Schizophrenia (Paperback)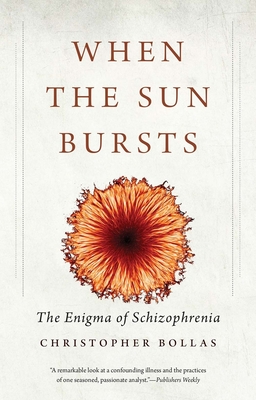 $19.00
Email or call for price.
Description
---
A leading psychoanalyst shares his experiences working with schizophrenic patients to show how effective talk therapy can be as a treatment  

Many schizophrenics experience their condition as one of radical incarceration, mind-altering medications, isolation, and dehumanization.  At a time when the treatment of choice is anti-psychotic medication, world-renowned psychoanalyst Christopher Bollas asserts that schizophrenics can be helped by much more humane treatments, and that they have a chance to survive and even reverse the process if they have someone to talk to them regularly and for a sustained period, soon after their first breakdown. 
 
In this sensitive and evocative narrative, he draws on his personal experiences working with schizophrenics since the 1960's. He offers his interpretation of how schizophrenia develops, typically in the teens, as an adaptation in the difficult transition to adulthood. 

With tenderness, Bollas depicts schizophrenia as an understandable way of responding to our precariousness in a highly unpredictable world.  He celebrates the courage of the children he has worked with and reminds us that the wisdom inherent in human beings—to turn to conversation with others when in distress—is the fundamental foundation of any cure for human conflict. 
About the Author
---
Christopher Bollas is a psychoanalyst, practicing for over 40 years. He has published many books (nonfiction and fiction) including The Shadow of the Object, Being a Character, and most recently China on the Mind. 
Praise For…
---
"This book is a remarkable look at a confounding illness and the practices of one seasoned, passionate analyst."—Publishers Weekly

"The author's perspective embraces personal, social, and political life on a vulnerable planet. His expertise extends to civilization generally, making an esoteric specialty relevant to human improvement in general. The book is suited for a general audience interested in psychology applied to the most challenging dilemmas."—Library Journal, Starred Review

"A vastly informative, coherent, and valuable assessment; useful and accessible for both mental health professionals and laypeople."—Kirkus Reviews

"In this book, Christopher Bollas expresses an uncanny ability to enter the world of another simultaneously almost unconsciously or automatically employing his intricate knowledge of theory and clinical experience to navigate the life of the schizophrenic."—Carol Stratman, Michigan Psychological Association

Finalist for the American Board & Academy of Psychoanalysis Book Prize in the Authored Books Category

"Christopher Bollas has written a beautiful, humane, and profoundly moving book. It tells us not just about the world of schizophrenia but also about what it is for all of us to be human, struggling not to be too frightened to live in a world of chance events. Its stories of the work of therapy illustrate the patient effort that is involved in respecting another person, and, indeed, offer a paradigm of love."—Martha C. Nussbaum, The University of Chicago

"Imaginative, heartfelt and moving, this is a beautiful book. Bollas' compassion and respect for his patients is palpable on these pages. The result is a sense of shared humanity, understanding and even hope. There's misery in When the Sun Bursts, and yet you will come away feeling ignited and consoled."—Stephen Grosz, author of The Examined Life

"If you want a book that will give you the living, vibrant, painful process of truly working with schizophrenia, then read this book. Christopher Bollas is famous in the world of psychoanalysis and beyond for the way he pushes us to the limits of possible thought. Here, in the most resonant, sensitive and even poetic writing—writing which teaches us anew what it really means to listen—Bollas makes a crucial clinical and political intervention into the increasingly vexed question of how to approach mental disturbance in our time."—Jacqueline Rose, author of Women in Dark Times

"Christopher Bollas writes with dazzling insight into the embattled mental world of schizophrenia. A profound and moving meditation on the tribulations of human subjectivity."—Barbara Taylor, author of The Last Asylum: a Memoir of Madness in Our Times (2014)

"In this absorbing, elegant, and uplifting new book, Christopher Bollas takes the reader on a personal odyssey through schizophrenia. In an era of biological reductionism, Bollas reminds us that no one we encounter in our work is completely out of reach by another human being. We all owe Bollas a debt of gratitude for keeping alive the flame with this extraordinary contribution."—Glen O. Gabbard, Baylor College of Medicine



"In this sensitive and evocative narrative, psychoanalyst Christopher Bollas draws on his personal experiences of working with people with a diagnosis of schizophrenia to offer an interpretation of how it develops as an understandable way of responding to our precariousness in a highly unpredictable world."—Therapy Today
— Therapy Today