You are here
Mental Traveler: A Father, a Son, and a Journey through Schizophrenia (Hardcover)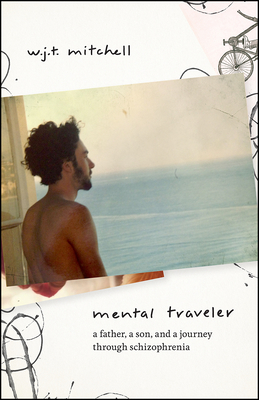 $22.50
Email or call for price.
Description
---
How does a parent make sense of a child's severe mental illness? How does a father meet the daily challenges of caring for his gifted but delusional son, while seeking to overcome the stigma of madness and the limits of psychiatry?  W. J. T. Mitchell's memoir tells the story—at once representative and unique—of one family's encounter with mental illness and bears witness to the life of the talented young man who was his son.

 Gabriel Mitchell was diagnosed with schizophrenia at age twenty-one and died by suicide eighteen years later. He left behind a remarkable archive of creative work and a father determined to honor his son's attempts to conquer his own illness. Before his death, Gabe had been working on a film that would show madness from inside and out, as media stereotype and spectacle, symptom and stigma, malady and minority status, disability and gateway to insight. He was convinced that madness is an extreme form of subjective experience that we all endure at some point in our lives, whether in moments of ecstasy or melancholy, or in the enduring trauma of a broken heart. Gabe's declared ambition was to transform schizophrenia from a death sentence to a learning experience, and madness from a curse to a critical perspective.    

Shot through with love and pain, Mental Traveler shows how Gabe drew his father into his quest for enlightenment within madness. It is a book that will touch anyone struggling to cope with mental illness, and especially for parents and caregivers of those caught in its grasp.
 
About the Author
---
W. J. T. Mitchell teaches English and art history at the University of Chicago.  His books include Image Science, Cloning Terror, and What Do Pictures Want?, all also published by the University of Chicago Press.
 
Praise For…
---
"Extraordinarily well written, organized and presented. . ."
— Midwest Book Review

"It's a compact yet complex and compelling work, covering the history of culture and science in the arena of mental illness, but also documenting the very intense, personal moments that only the family of someone like Gabe experiences."
— New City

"A father's account, a humane case study of a person with schizophrenia, and above all a beautiful elegy for a bright and creative and troubled life lost, Mental Traveler is renowned scholar Mitchell's lucid memoir of his son Gabe's illness from early-onset in college to crisis, recovery, treatment, and finding a way in the world before his untimely death. Through a deep and clear-eyed process of attention and reminiscence, this book does a lot to dispel the stereotyping and scapegoating of people and families suffering from and with schizophrenia."
— Greg Bottoms, author of Angelhead: My Brother's Descent into Madness

"Mitchell's Mental Traveler combines a scholar's intellect with a father's intimate perspective on the life, work, and suicide of his son, Gabriel Mitchell. A kaleidoscopic and erudite memoir of madness and sanity, this is also, at its core, a stunning account of what endures in the wake of catastrophic tragedies: love, art, and vast stores of human hope."
— Rachel DeWoskin, author of Banshee and Someday We Will Fly

"Mitchell has traveled across the dark and divine landscape of his brilliant son's mental illness, all the way to the ultimate loss: his son's suicide at the age of thirty-eight. A scholar, activist, and experimenter in his own right, he guides us through the journey with special knowledge and sensitivity. He is attuned both to the philosophical entanglements of mental illness and to its daily grind, its crushing brutality and its periods of soaring, other-worldly energy. Mitchell looks beyond the well-known symptoms of schizophrenia to the particularity of his family, his son's individual consciousness, and his own struggle, as a father, to understand. Written with love, bewilderment, sorrow, and admiration, Mental Traveler is a valuable addition to the literature of psychosis and the toll this mysterious illness takes on loved ones, left to make sense of it all."

 
— Michael Greenberg, author of Hurry Down Sunshine: A Father's Story of Love and Madness

"Mental Traveler provides a reading as deeply personal as it is insightful into the dynamics of media and relationship convergence within a family facing mental illness. . . . As it interlaces autobiographic writing with a thorough knowledge of images and their impact on society and identity, Mental Traveler plays a significantly important role when it comes to first-person accounts of the mentally ill. More than this, for the purposes of Gabe's ambitions, it carries forward a discourse about madness as a cultural mirror to society and the media, processing it for further elaborations on family matters, madness and the moving image."
— The Polyphony