You are here
Service Fanatics: How to Build Superior Patient Experience the Cleveland Clinic Way (Hardcover)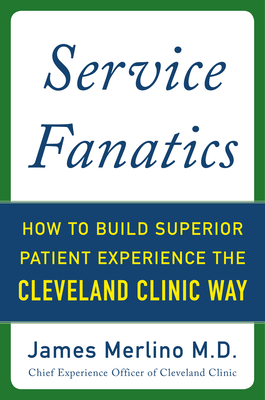 $36.00

Usually Ships in 1-5 Days
Description
---
THE PROVEN MODEL FOR DRIVING POSITIVE ORGANIZATIONAL CHANGE
Cleveland Clinic has long been recognized for driving some of the best clinical outcomes in the nation, but it was not always a leader in patient experience. There was atime when this revered organization ranked among the lowest in the country in this area. Within ten years, however, it had climbed to among the highest and has emerged as the thought leader in the space.
How did Cleveland Clinic turn itself around so effectively and so quickly?
More important, how can you do the same with your organization?
In gripping, visceral, on-the ground fashion, Service Fanatics reveals the strategies and tactics the Clinic applied to become one of today's leading patient-experience healthcare organizations--methods that seamlessly translate to any business seeking to improveits customer experience. This strategic guide covers:
How the Clinic's leaders redefined the concept of patient experience and developed a strategy to improve it
Critical lessons learned regarding organization, recruitment, training, and measuring service excellence
Ways in which the Clinic aligned its entire workforce around its Patients First strategy
How leaders improved the critical element of physician communication
Rather than view patients simply as sick people who need treatment, Cleveland Clinic sees them also as important stakeholders in the organization's success. Patients are customers--who desire, pay for, and deserve the best possible care and experience during what is often a challenging time in their lives.
Featuring customer service case studies, as well as invaluable insight from C-level executives at top corporations in various industries, Service Fanatics provides actionable lessons for any manager and business leader beyond healthcare.
Whether you run a healthcare institution, nonprofit, or for-profit business, Service Fanatics will help you create the kind of customer experience that promises to transform your organization into an industry powerhouse.
About the Author
---
JAMES MERLINO, MD, is the Chief Experience Officer of the Cleveland Clinic Health System and is a practicing colorectal surgeon in the Digestive Disease Institute. He is the founder and current president of the Association for Patient Experience and is a recognized world thought leader in the emerging field of patient experience. In 2013, HealthLeaders magazine named him one of "20 People Who Make Healthcare Better."