You are here
Be Pretty, Get Married, and Always Drink TaB: A Memoir (Paperback)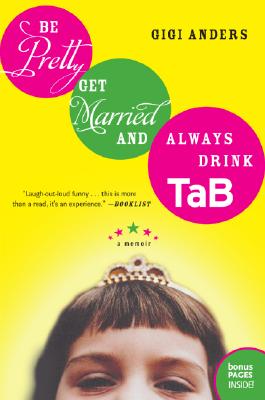 $19.99

Usually Ships in 1-5 Days
Description
---
According to her colorful Mami Dearest, the life of young Gigi Anders will be simple if she can remember three maxims—be pretty, get married, and always drink TaB. Thus begins her instruction in the art of being a lady and the side effects of falling in love.
As the granddaughter of Eastern European and Russian shtetl-reared grandparents who immigrated as teenagers in the early 1920s to the fierce tropical beauty of Cuba, Anders is heir apparent to a legacy of transatlantic alienation. With dazzling wit and hilarity mined from the depths of loss and yearning, Anders chronicles her journey from beach baby to ostracized exile to vibrant intellectual, along the way balancing her obsession with killer outfits and zaftig, orgasmic meals—always with a can of TaB!—with the more serious pursuits of love, sanity, and lipstick in perfect siren red.
About the Author
---
Author of the hilarious memoir Be Pretty, Get Married, and Always Drink TaB, Washington Post special correspondent Gigi Anders and her parents were born Jewish in Havana, Cuba. The trio fled Castro's regime for the United States in 1961. After six months in Miami Beach, the family moved to Washington, D.C., where Gigi came of age and eventually turned to writing. She has written for Glamour, Allure, Mirabella, American Health for Women, USA Today's USA Weekend, American Journalism Review, Hispanic, Latina, and First for Women.