You are here
Important Things That Don't Matter: A Novel (Paperback)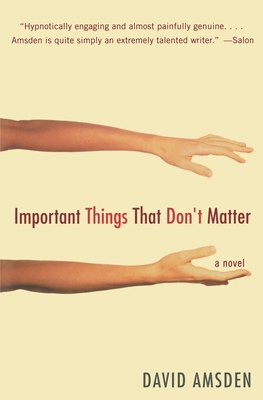 $13.99
Email or call for price.
Description
---
So Dad's around lately. That's it. And I want to tell you things, throw fragments your way that I barely understand. Because it's just funny, flat out, the way someone you don't even know can get up in your face, tweak things that should be so ordinary. Or I think it's funny. Maybe you will too.
Hailed by The New Yorker as "a fictional report from the strip-mall front lines of Generation Y," Important Things That Don't Matter is a provocative, moving, darkly funny portrait of family and divorce, a boy and his father, the eighties and nineties, and sex and intimacy that raises vital questions about a generation just now reaching adulthood.
About the Author
---
While a student in New York, David Amsden worked at the New Yorker and New York magazine, where he is now a contributing writer. He currently lives in Brooklyn, New York, where he is at work on another novel.
Praise For…
---
"Hypnotically engaging and almost painfully genuine...an extremely talented writer." — Salon
"You've got to hate this guy. He's already been called the voice of his generation." — New York Times
"The novel's so real and personal it's like being in this Gen Y kid's skin for 15 formative years." — Entertainment Weekly
"...so refreshingly un-Generation X..." — Los Angeles Times
"David Amsden is an invigorating, original, and sickeningly talented writer." — Augusten Burroughs, author of Running With Scissors
"Absorbing...a daring narrative that resonates with the heartbreaking emotion that lurks between Amsden's sharply written lines." — BookPage
"There are moments of literary brilliance in this story that will dazzle the reader." — John Searles, author of Boy Still Missing
"Nothing short of phenomenal!" — Nick Fowler, author of A Thing (Or Two) About Curtis and Camilla
"Really, really great...close-to-the-nerve honesty, severe suffering, intertwined with that leavening cynical humor." — J.T. Leroy, author of Sarah
"The narrator's voice is a likable mixture of bewilderment and tentative black humor...well cast and darkly ironic." — Publishers Weekly
"Conversational and tough, the novel's observant narrator is bound to captivate readers." — Booklist
"This book is a complete winner. Smart, charming, fresh, compelling--Amsden is a writer with enormous talent." — Bill Buford, author of Among the Thugs